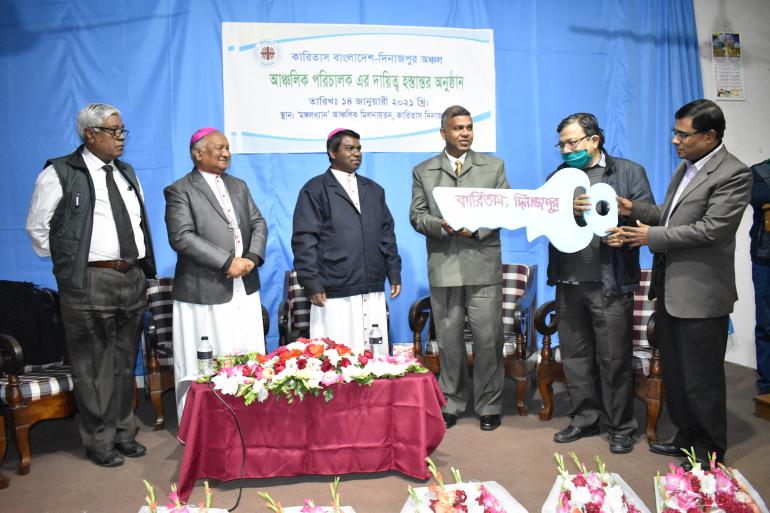 The social action arm of the Catholic Church in Bangladesh's Dinajpur region has named a new regional director in the person of Ronjon John Paul Rozario.
Rozario's appointment came following the retirement of Jogen Julian Besra in December after 31 years of dedicated service.
Besra's retirement date was extended until January 15, 2021, until he handed over the responsibilities to Rozario. 
The turnover ceremony was attended by Bishop Gervas Rozario of Rajshahi, president of Caritas Bangladesh, and Bishop Sebastian Tudu of Dinajpur who heads the program in the region.
Also gracing the occasion were Ranjon Francis Rozario, executive director of Caritas Bangladesh, and Sebastian Rozario, director of Finance Administration of Caritas Bangladesh.
Bishop Rozario expressed his gratitude to Besra "for his loving and dedicated service" and welcomed Rozario.
"I hope you also share your talents to develop Caritas activity with your loving and dedicated service," the prelate said.
"I have accepted the responsibility given to me in Caritas," replied Rozario, adding that it is "a vocation from God in my life."
"This is a call to great service, which I cannot do alone, so I need your help and cooperation," he said.
He said his vision is "to build a skilled workforce that will work tirelessly."
"May the love of man and God stand by the side of the needy, the miserable, and the deprived people," he said. "We will build on each other by sharing our work experiences," he added.
The Dinajpur Regional Office of Caritas was established in 1972. Since its inception, a total of five directors have worked in the office.
Caritas in Bangladesh was established in 1967 as the eastern branch of Caritas Pakistan. 
Following the cyclone of November 1970, it was re-organized and became known as CORR (Christian Organization for Relief and Rehabilitation) and took on the character of a national organization on Jan. 13, 1971. 
The name Caritas was re-introduced in 1976.
Caritas Bangladesh has its Central Office in Dhaka with eight Regional (or Diocesan) Offices in Barishal, Chattogram, Dhaka, Dinajpur, Khulna, Mymensingh, Rajshahi and Sylhet. 
In all these places, Caritas is operational in Integrated Development, Disaster Management and Human Resource Development, under a central management. 
Caritas restricts itself at present to 208 upazilas (sub-districts) for integrated human development work. During emergencies, such as natural disasters, Caritas is operational in any part of the country.
Caritas Bangladesh is a member of Caritas Internationalis, a confederation of 165 Caritas Member Organizations over 200 countries and territories. - Nikhil Gomez / RVA News