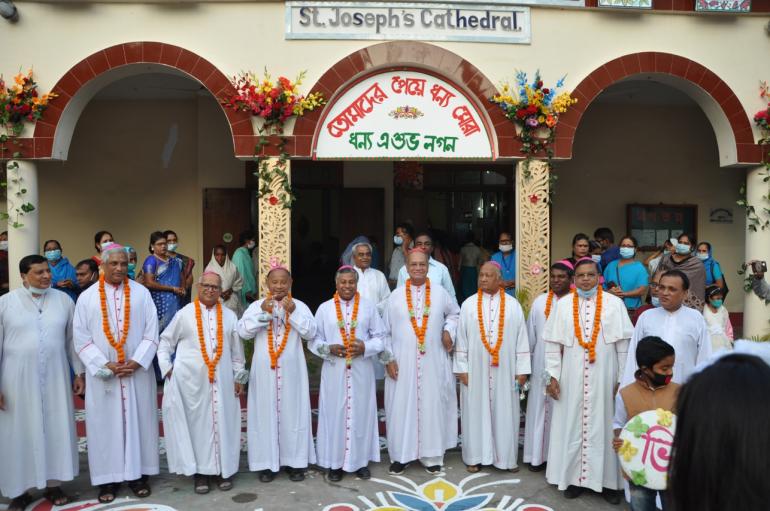 Officials of the Catholic Bishops' Conference of Bangladesh, together with Cardinal Patrick D'Rozario, CSC, visited the Diocese of Khulna from November 6 to 9.
The people of the diocese welcomed the Church leaders during the historic journey, which was participated by Bishop James Romen Boiragi of Khulna, Father Jacob S. Biswas, vicar general, and Mr. Daud Jibon Das, regional director of Caritas.
The people welcomed the visitors with flowers, songs, and a welcome dance at the bishops residence. 
More than a hundred people attended the celebration of the Holy Eucharist. 
The bishops visited Tungipara, Gopalgonj, to pay homage and to offer prayers at the tomb of Father of the Nation, Bongubhondu Sheikh Mujibur Rahman. 
During a visit to the historic Shat Gombuj Mosque, the bishops joined in prayer with Mawlana and Muslim religious leaders. 
The Catholic Church leaders also visited several historic places in Bagerhat, Khulna, Jashore, Meherpur, and Kustia districts. 
During the same trip, the bishops inaugurated and participated in Caritas programs, including a tree-planting activity and the distribution of livelihood support to people affected by the pandemic.
Cardinal D'Rozario described the trip as a "great journey" for the the bishops' conference and for the Catholic faithful in Khulna. 
He said constant dialogue will help develop the Christian faith and promote inter-religious peace and harmony. - Nikhil Gomes / RVA News