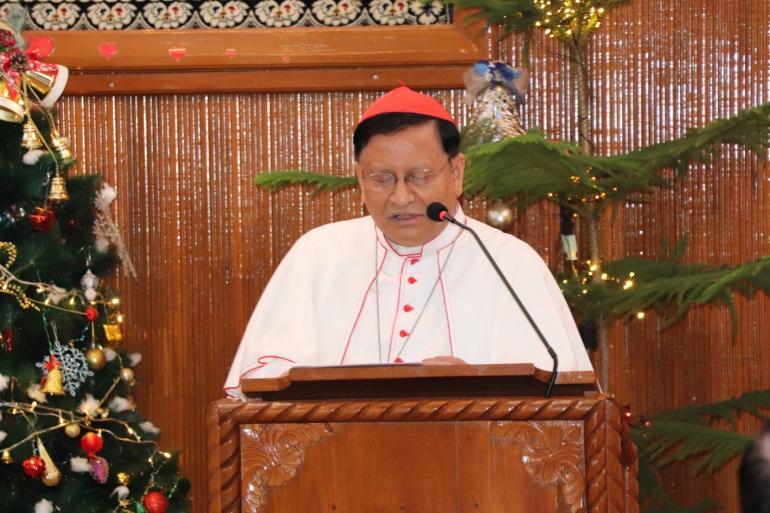 Dear Brothers and Sisters in Christ
Merry Christmas.   Let joy on this night. Let hope break for like a morning sun.
The joyous night of Christmas is with us today.  All blessings be with you.   It is a great night.   This is night is the night of promise.  This night will enter into a new day.  This is very symbolic of the conditions of today. 
 2020 threw to all of us great challenges.  It looked like a long night.  It looked like a long winter.  But the Prophet Isaiah says in the first reading today: the people who have walked in dark have seen the light.  As the year comes to close, we are heartened by the news that there is a vaccine against this deadly virus.    God never gives up on human beings. That is the message of our struggle of this year. 
That is the message of Christmas.  God does not come in perfect time.  God comes when everything looks hopeless.  Because God is a God of hope, God of life. 
Merry Christmas.
The message of Christmas is a perpetual stream of hope:
Christ is the light brighter than all darkness.
We have come to pray that the coming year may be peaceful, people of Myanmar enjoy greater health, that our country may be more peaceful.   Hope is like the Irrawaddy river.  As the river flows through the heart of Myanmar, let hope flow in our hearts.    Christmas comes every year to provoke hope in us.  
We remember the story of first Christmas.  The holy family resembled many of us living with difficulties.  They were poor, they were without regular work.  They were migrants like many of our youth.  They did not have enough money to find a decent house for their baby.   The Bible says:  There was no place for them.  For thousands of our people working in the nearby countries this is the fate. No place.  But out of that dark night, a light was shown, not only for one day, a light that shows the way for the last two thousand years.      
Yes, brothers and sisters, we do not curse the darkness, we light a lamp of hope.  That is the Christmas message.   Light the lamp of hope in your hearts, in your families and in the country of Myanmar.    Human heart lives by hope.   In the Christmas last year, Pope Francis talked about this darkness.  There is darkness in personal, family and social relationships, but the light of Christ is greater. There is darkness in economic, geopolitical and ecological conflicts, yet greater still is the light of Christ.
This year Christmas stresses that, even under Covid night we can get a glimpse of our redemption. The Incarnation is God's decisive 'yes' to humanity and creation".  He finds us, when we think everything is lost.  Let Christmas bring that confidence in life again.
You can ask, how is this possible?   So much of suffering, so much of loss in 2020?
Everything is possible with God – only Believe
2000 years ago, when angel Gabriel appeared to Mary to announce that God had chosen her as the mother of the savior, Our Lady raised the same question:  How is this possible?  I am still a virgin?   The Angel replied:  With God everything is possible.  Elizabeth who was very old, she was also given the gift of birth.  
2020 is the year of C: Covid but this is also the Year of another C:  Compassion
2020 is also called the "C" year.  C stands for Covid.  This invisible virus has disrupted our physical, social, spiritual, psychological life. It has threatened this year another C :  Christmas.  The main Cs of Christmas are gone today:  Crib, Carols, Cakes, Congregational worship, Church: all are gone.   The merry Christmas looks like worry Christmas.  
But these Cs have given way to greater blessings: Christ himself with his Compassion.  We are exhorted all through the year: Be compassionate as your heavenly father is compassionate.  – we have witnessed the generosity of people reaching out to suffering people.  We remember extra ordinary sacrifice of Care givers: another C.   Their willingness to expose them to risk every day. We have built communities of compassion.    
This pandemic makes Christmas meaningful.    All through this year, Christ came to meet us; in our loneliness as a consoler, he met the families those lost their livelihood, he met the families those were infected, he met the families those were grieving silently for loss of their dear ones.   His words continue console us: 
So do not fear, for I am with you; do not be dismayed, for I am your God. I will strengthen you and help you; I will uphold you with my righteous right hand (Is 41:10)
Yes.  This Christmas we remember, we could not go to visit Jesus in the manger, because all through the year, he was with us; he will be with us.   That is incarnation.  Jesus is here with us.  Jesus knows our every need.  With joy and hope, we let us listen to   St Paul who comforts us with the words:
Do not be anxious about anything, but in every situation, by prayer and petition, with thanksgiving, present your requests to God.  Ph: 4:6
The threat of pandemic is going away.  A miracle has happened. Within a year, there is a vaccine.  In many countries of the world, the ferocity of this virus is fought with human compassion.   This darkness started going away.   This is Christmas night when the prince of Light is born and he will overcome any darkness with his light as St John says:
    In him was life, and that life was the light of all mankind. The light
    shines in the darkness, and the darkness has not overcome. John 1:1-14
War and Conflict are chronic pandemics:  
Jesus: The Prince of Peace heal our Pandemics.
Our personal suffering during this Covid is heavy.  Every family is mutilated with anxiety.  Death continues to dance in the streets of even rich countries.   Covid is one of the great challenges to humanity.  As the Pope says: we are all together in this.  Only by thinking about one another we can win the war against all of us.
            But Covid also exposed the pestering and permanent pandemics of our society:  Poverty is a pandemic, war is a pandemic, displacement is a pandemic, human trafficking of innocent people is a pandemic.   
            Covid Pandemic will disappear in some years. But look at our country.  We have the COVID of war for the last seventy years.   There seemed to be no vaccine.  As the real Covid broke, I released a statement echoing the pleadings of the UN Secretary General and Our Holy Father, pleading for cease fire and peace.   Covid in a cruel way is reminding us we are all one:  No minority, no majority, no ethnicity, no religion.  No super power, no poor country.    We are fragile.  War is a crime against humanity, crime against God. 
            To war weary Myanmar Christ comes as the Prince of Peace.   The prophet Isaiah gloriously proclaimed Christ's role in his incarnation:   
For a child will be born to us, a son will be given to us;
                        And the government will rest on His shoulders;
                        And His name will be called Wonderful Counselor, Mighty God,
                        Eternal Father, Prince of Peace" (Isaiah 9:6).
            Yes. This the great message.   As human beings we are fragile. War is a Sin; War is a permanent Covid.  Like Covid has suffocated the life of millions of poor.  War has stolen life.  This pandemic showed that many countries have more soldiers than doctors and nurses.  Many countries have more guns than ventilators.
            The message of Covid is simple:  Make peace, not war.   Do not go for vengeance.   No one is stronger than an invisible virus.  Reconcile.  Pope Francis has written extensively on the need for reconciliation and making peace.  This is a long process.  Pope Francis has pointed out we are at war at three levels: 
1.     Our war against all loving God through Sin,  
2.     Our war against our brothers and sisters through hatred and war,
3.     Our war against nature, the gift of God through destroying nature.  
We need to reconcile at these three levels.   At a personal level, at the community level and at the international level, this Covid is calling us to reconcile. In the words of Pope Francis, Let us dream,  a new world, where war will be a distant memory, where poverty will be  read in the history books.
            As the holy Father pointed out the world lies on the road wounded.  Each one of us can become the good Samaritan, healing the wounded world.  Be at peace, bring peace. Peace is possible, peace is the only way.  That is the Grace, says St Paul in the second reading. "God's grace has been revealed and it has made salvation possible for us all."
            We rejoice at the coming of Vaccine for the Covid Virus.  Christ is the Vaccine for all our sorrows; he is the eternal healer.   His arrival will heal all our wounds.  That is the message of Christmas.  
Let each one of you, every family, be blessed with total healing. May you be anointed with God's peace.  Let every nation embrace peace.   For Jesus peace, St Paul says will guard us in these challenging times.
And the peace of God, which surpasses all understanding, will guard your hearts and your minds in Christ Jesus.  Phi: 4:7         
Today's Gospel preaches peace.  Angels sing of peace.  Let the song of the angels that resonated in the first Christmas, enter our hearts, our houses, our countries celebrating the vaccine of humanity saying: 
Glory to God in the Highest:   Peace to all men and women of Good will on Earth.
Let goodwill prevail, Christmas will heal and build us as a new creation.
Christmas calls us to be men and women of Good will.    We too can attain God's great qualities if we nurture goodwill.
What does this good will mean in this country?
 Let us forget the historical wounds.  Christ birth renews us. Let us reconcile.
Let us renew our hearts.  Let all ethnic groups live in harmony
 Let all those who steal our resources be converted into sharing the resources.
Let all those who hold power in this country, share, empower the most powerless
 Let all those who destroy our youth with drugs stop the drug industry
Let all those who have arms, lay down the arms, seek just peace through talks.
Let there be economic justice and environmental justice, let us be golden land.
Let all the discrimination based on religion, race and language go and be united as brothers and sisters. 
The real work of Christmas, starts once the celebration is over.  Let our hearts are filled with good will.  Let us as a nation, as brothers and sisters of one mother, march towards a meaningful Christmas of seeing a nation of peace and prosperity, so that every family may feel the joy of Christmas every day in their lives.
               Let that Good will rise again!  Let us give birth to a new Myanmar of Peace and Prosperity!
  Merry Christmas.
Cardinal Charles Maung Bo, Yangon Myanmar.