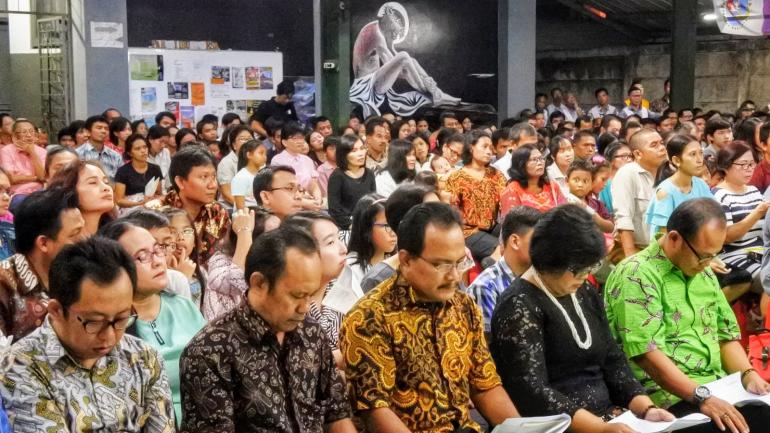 Catholic faithful in a parish in the outskirts of Jakarta in Indonesia continue to wait for the government to approve a proposal, which was submitted 14 years ago, to build their parish church in honor of Mother Teresa.
"The parish has tried to process the permit following existing regulations," said Father Antonius Suhardi Antara, "but to no avail."
The priest said the Mother Theresa Parish in Cikarang, Bekasi Regency, submitted its application to build a church in 2007.
The parish, which was established in 1992, still has not church building after failing to secure the necessary permit to build one.
The parish has been using a hall, which can accommodate about 2,000 people, at the Trinity Catholic School for prayer services. The parish has about for 11,200 parishioners.
"We do not know for sure the reason why the church permit has not been given yet," Father Antara told Radio Veritas Asia in an interview.
"There must be a political element because several city mayors have changed and none of them dared to issue a permit for reasons that were never stated," he said.
Meanwhile, the head of the Bekasi Regency Religious Harmony Forum, Mohammad Athoillah Mursjid, said he supports the establishment of a Catholic church in Bekasi Regency.
"Our relationship as religious people is very close," said the Muslim leader. "We often hold activities together. There is no reason for the Bekasi Regency Government to delay this permit," he said.
Father Antara also said there was no opposition from the community on the building of the church.
"Catholics in Bekasi Regency hope that a church can be built so we can worship in a more appropriate place," he said.
A similar case also happened in Tambun Station at St. Arnoldus Parish in Bekasi.
"Until today we are waiting for the permit for our church," said Leonilia Dwi Haryani, a parishioner at Tambun. She said the parish has applied for a permit for "a long time already."
Bekasi Regency is part of the Archdiocese of Jakarta. It is located about 50 kilometers from the Indonesian capital. Bekasi Regency has nine parishes and three sub-parishes. - Emiliana Saptaningsih / RVA News