Asian Bishops' Communication Office Plans Webinar on Digital Pastoral Care for Church Leaders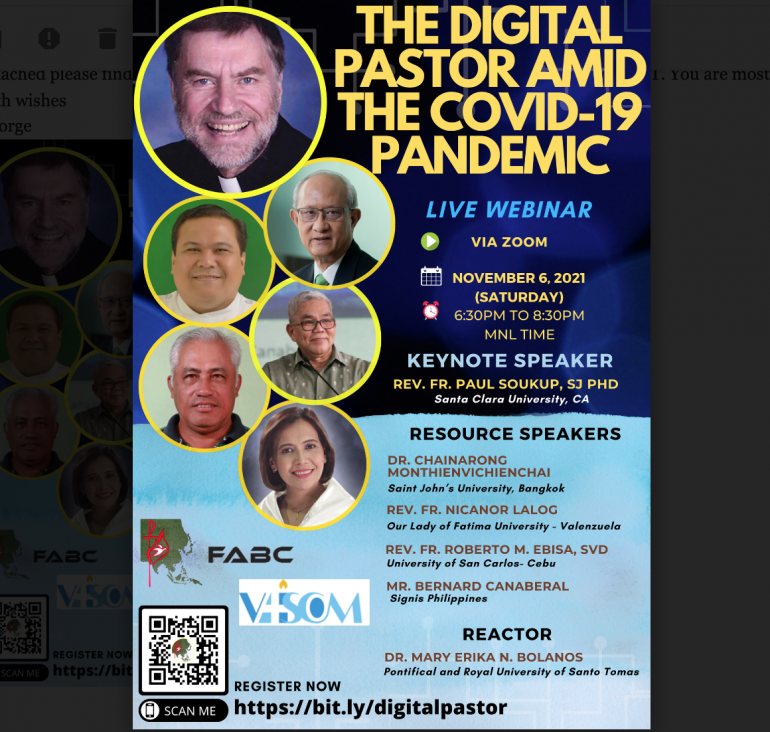 Asian Bishops Office of Social Communication is organising a webinar for church leaders to render pastoral care amid the Covid-19 pandemic on November 6.
The webinar titled "Digital Pastor Amid the COVID-19 Pandemic" will bring together eminent church leaders and communication experts to discuss the issue.
The speakers include Fr Paul Soukup SJ of Santa Clara University, USA, Chainarong Monthienvichienchai, Chancellor, Saint John's University, Bangkok,
SIGNIS Philippines President Bernard Canaberal, Journalist and Blogger, Father Nicanor Lalog, Chairman, Philippines Federation of Broadcasters, Father Roberto M. Ebisa, SVD,  and Professor of Royal University of Santo Tomas, Mary Erika N. Bolanos.  FABC-OSC Chairman Bishop Roberto Mallari and Executive Secretary Father George Plathottam will also address the event.
The webinar is organised jointly by the FABC Office of Social Communication in cooperation with the Veritas Asia Institute of Social Communication (VAISCOM).
"The event aims to raise awareness on how to bring the best ideas of communication to address the challenge of pastoral care in the context of the Covid pandemic," said FABC-OSC Executive Secretary Father George Plathottam SDB.
The webinar is open to bishops, clergy, pastors, religious leaders, educator, and lay leaders who share responsibility for shepherding God's people in the current communications milieu even as the pandemic rages on.
Father Paul Soukup will deliver the keynote address on the identity and human relations in pastoral communication, while Dr. Chainarong will speak on being Church in the age of pandemic. The other speakers will discuss issues such as caring for the flocks digitally, the role or radio, church and communication. 
The organizing secretary of the event, Anthony G. Roman said the two-hour webinar  from 6:30 to 8:30 pm on Manila time, is open to all and one can  register  directly on  https://bit.ly/digitalpastor or by writing to  [email protected].