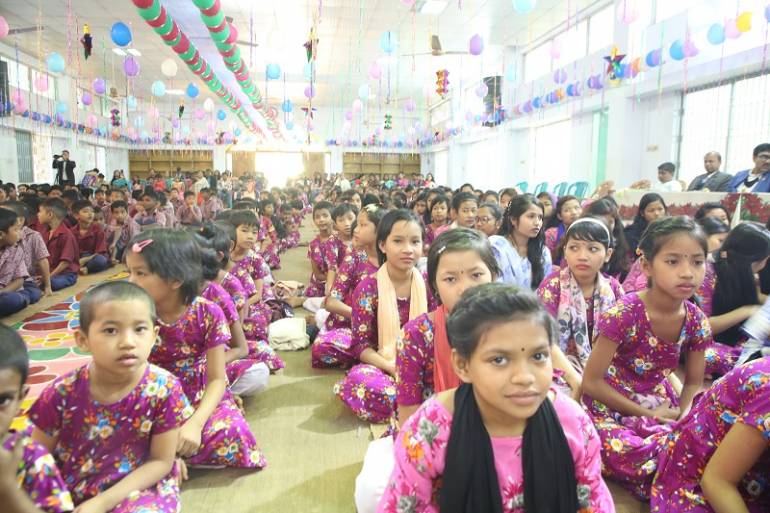 Samaritan Children Home, a charity in Bangladesh, organized a pre-Christmas celebration for the street children, orphans and underprivileged in Kamalapur, Savar, 30 kilometers away from Dhaka, on December 2.
"You have to dream. We try to make that dream a success. It requires a lot of hard work and patience. If you have done properly, you will be successful," said Pankaj Gilbert Costa, the president of Christian Co-operative Credit Union Ltd. in Dhaka.
Costa, speaking as the chief guest for the event, expressed that children should be educated in academics, moral values, and respect for elders.
Samaritan Children Home provides education, shelter, food, clothing, and healthcare to orphan and underprivileged kids as well as street children with the aim for holistic development to make children independent in life.
According to David Anil Halder, the executive director of Samaritan Children Home, about 5,000 orphans have been educated in the institution since 1990.
Halder feels that success is when an orphan child grows and moves out to serve as a contributing citizen of the community.  
The Samaritan Children Home empowers orphan children or those whose parents are poor. The charity provides free accommodation, education, medical assistance, social and spiritual opportunities from the age of four.
"When I see children's dream come true, I feel good," says the executive director.
About four hundred fifty children in Samaritan Shishu Palli were an able move towards a better future with a family of their own.  
Samaritan Children Home was established in 1990 by a group of Christian leaders, pastors, businessmen and missionaries to reach out to the street children, orphaned and underprivileged in Bangladesh.
The story of Samaritan Children Home began with David Halder and his wife Namita taking six needy children into their home in Dhaka.  The couple accommodated twenty-five children with two months.
The orphanage moved to Savar, thirty kilometers away from Dhaka, due to expensive rent and limited space for children.
"We rented a four bedded house with two additional rooms and where we accommodated up to 159 children until June 1995," Halder recalled
Then it was a story of donors both from Bangladesh and abroad.  
Anita Chowdhury, a generous Christian lady from Bangladesh, donated 2.4 acres of land.  Friends from the US provided money to construct a dormitory for 200 children.  Family friends for the couple from the US, Australia, and Netherland extended financial help over the last twenty years.
Other guests who graced the occasion were Raymond Areng, Central Executive Member of Bangladesh Awami League, Makarias Das, Inspector of Police (Intelligence) of Savar Model Police Station, Kamrunnahar, Savar Upazila Education Officer, Ratan Peter Gomes, Headmaster of Savar Adharchandra High School, and Headmaster of Samaritan Children Home High School.