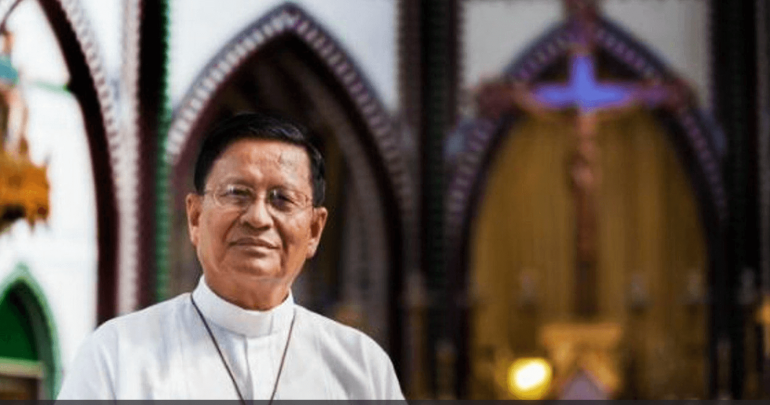 Cardinal Charles Maung Bo, SDB, gave out a clarion call to all in Myanmar to invest in hope, peace based on Justice.
Cardinal Bo, the president of the Catholic Bishops Conference of Myanmar (CBCM) sent out an Advent message 2021 titled, "Enough is Enough, My Dear Myanmar" on December 9.
"Enough is Enough, my dear Myanmar. Christmas is the moment of introspection: for those who believe only in violence, those who perpetrate it and those who fall victims. Those who proactively started the violence and believe in the sadistic torture and killing are the primary cause of this valley of tears," the prelate says to the people of Myanmar.
Myanmar is under military coup since February, 1, 2021. 
Cardinal Bo, the president of the Federation of Asian Bishops Conferences (FABC), says he is deeply concerned about youth in Myanmar. 
The prelate invited youth to choose a nonviolent path, a peaceful solution. Cardinal Bo pointed out a temptation to seek vengeance in the face of inhuman violence.
"Once again, I appeal not to follow the path of violence. Violence only breeds violence. Change course. Believe in truth, belief in the power of love," said Cardinal Bo, the archbishop of Yangon.
Quoting Mahatma Gandhi's advice about inhuman violence, Cardinal Bo reaffirmed that "Non-Violence is not for the weak-hearted. It is the weapon of the strong."
Cardinal Bo urged people to be on guard against wanton violence. "The killing of our own countrymen, people who differ from us. Young people of this country, I know your pain, but that pain cannot be justified by inflicting more pain on yourselves or others."
Describing the context of Myanmar, Cardinal Bo quoted prophet Isaiah, "The people walking in darkness have seen a great light; On those living in the land of the shadow of death, a light has dawned" (Isaiah 9:2).
Cardinal Bo identifies the land of darkness as Myanmar.
"Where is that land of the shadow of death? Every Myanmar heart will say with great sorrow: This is our land. Land on which darkness has fallen, a land where violent death has become the norm. This is the valley of tears. The repugnant violence over the last ten months has offended the sensibilities of the world," the prelate expressed.
Cardinal Bo says, "We do not accept the evil of despair and hate. With Jesus, we wish to proclaim let there be peace. To the nation of self-inflicted wounds, we say: Enough is enough, my dear Myanmar."
In the violence raged Myanmar, Cardinal Bo boldly affirms, "We do not ever condone the injustice and suffering of the innocents. Those expected to guard the life and security of our people have become a frightening cause of distress and dread. Even to them, we say: There is power in Love. That is the message of Jesus and Christmas."
Cardinal Bo acknowledges that people are witnessing challenging times – a country with lofty dreams has turned into a nightmare, a garden of Eden into a valley of tears.
"Truth, the Bible says, liberates us. These are times the truth is fragmented; it is easy to fill our minds with narratives of hatred and prejudices. Faith in one another may be polluted and disunity destroys us," said Cardinal Bo.
The prelate expressed that "Christ appeared in a similar context of chaos and hatred. He was a victim of the arrogance of the Roman Empire. Death and massacres were the norms when he was a child. Genocide of the children happened when Herod chose to kill all the children."
"Jesus was displaced. He was a refugee. Herod failed; Pilate failed. Yet the Love Incarnate, in that simple manger, born to poor like our people, won over. The manger of Bethlehem ultimately won over the might of Rome. Let that be our hope. Amidst the darkness and the suffocating despair, over the poor manger Angels sang a song of peace when he was born," Cardinal Bo invites people toward hope, peace based on justice.
Like Pope Francis, Cardinal Bo urged people to "seek peace and reconciliation."
"Let us knock at every door; let us knock at the powers. History is on our side. Seeking a peaceful method is not diluting any rights."
The Cardinal described the Catholic church's concept of peace. Peace "starts with the quest for justice. Not an empty peace: Peace born out of justice. There can be no durable peace without justice in this country."
"All the people of Myanmar are hungry for justice. Till that hunger is quenched, this country will not settle into peace," the cardinal said.
Cardinal Bo says, "this Christmas takes a Christmas takes a very special yearning; of hope that all of us can live in Peace. We do hope all those in the prisons can return home; all those in the Internally Displaced Persons (IDP) camps can return home; all those in hiding can freely walk, all wounded be healed, all broken families are united, and all the guns will fall silent."
The prelate invites people to "accept the collective goodness in our hearts (which) is more powerful than fragmented hatred." Cardinal Bo pointed to southeast Asian countries that suspended conflict and started developing their country's resources. 
"Let them not seek solutions out of despair. We also pray for those who seek to dominate our people with guns. Our conflicts were never against a cross-border enemy. All against our people. We can solve our differences," Cardinal Bo appealed to the people of Myanmar.  
Cardinal Bo says, "Real Christmas is when this country believes in peaceful means. Let the prophecy of Isiah, prominently displayed in the UN building, become our reality from this Advent season: They shall beat their swords into ploughshares and their spears into pruning hooks; Nation shall not lift sword against nation, neither shall they learn war anymore" (Isaiah 2:4).
---
Radio Veritas Asia (RVA), a media platform of the Catholic Church, aims to share Christ. RVA started in 1969 as a continental Catholic radio station to serve Asian countries in their respective local language, thus earning the tag "the Voice of Asian Christianity."  Responding to the emerging context, RVA embraced media platforms to connect with the global Asian audience via its 21 language websites and various social media platforms.