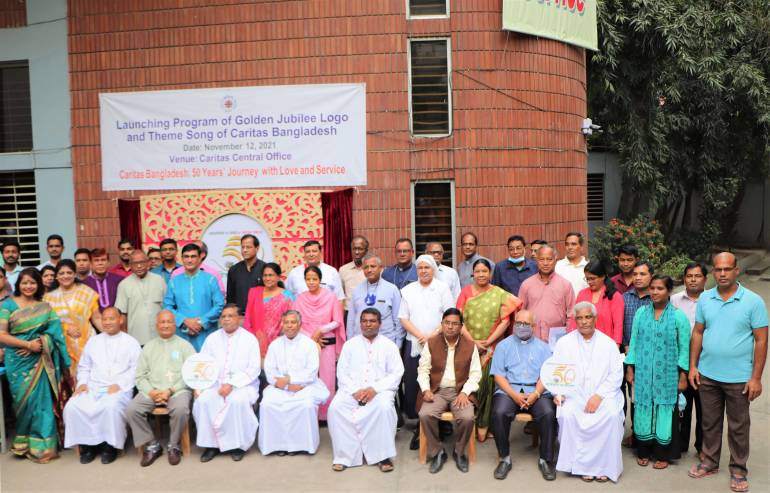 Caritas Bangladesh, the social action arm of the Catholic Church, celebrated 50-year journey with love and service by officially launching the theme song and the unveiling of the logo on November 12.
Archbishop Bejoy D'Cruze, OMI of Dhaka, unveiled the 50-year-old Jubilee logo.
The prelate congratulated Caritas Bangladesh for its continual service to the people.
"Caritas is a source of pride for the Catholic Church. Because Caritas takes the church to different levels of people by providing beautiful service to all, regardless of race, religion or caste."
The archbishop invited the people to make this Jubilee Year a source of inspiration, encouragement, and strength.
"According to the Synodal Church, the Pope wants to ensure unity, solidarity, and participation among all of us. It will be our Church mission or purpose," said Archbishop D'Cruze.
"Caritas' mission will be to spread the love of Christ to all. Let those we serve say Caritas loves us, works for us," said the prelate.
Bishop James Romen Boiragi of Khulna, President of Caritas Bangladesh and all the Bishops of other dioceses in Bangladesh. Caritas directors and staff, including honorary members of the General Body of Caritas Bangladesh, were present on the occasion.
"When we talk about the jubilee, two things deeply inspire us - one is the past and the other is the present. Caritas has been working for 50 years for human welfare, human development and changing the lives of the poorest people," stated Bishop James Romen Boiragi, president of Caritas Bangladesh.
Bishop Romen Boiragi hopes that "Caritas will become not just an NGO's but a loving family where there must be mutual love, respect and unity. This family will work for the development of the people with love and service. May this journey be successful and beautiful with everyone."
Caritas in Bangladesh was established in 1967 as the eastern branch of Caritas Pakistan. Following the cyclone of November 1970, it was re-organized and became known as CORR (Christian Organization for Relief and Rehabilitation) and took on the character of a national organization on January 13, 1971. 
The name Caritas was re-introduced in 1976.
Caritas Bangladesh is a Bangladeshi nonprofit organization established by the Catholic Bishops Conference of Bangladesh (CBCB) to carry out integrated social welfare and development activities, especially for the vulnerable poor and marginalized.
Caritas Bangladesh has its Central Office in Dhaka with eight Regional (or Diocesan) Offices in Barishal, Chattogram, Dhaka, Dinajpur, Khulna, Mymensingh, Rajshahi and Sylhet. 
Caritas is operational in Integrated Development, Disaster Management and Human Resource Development, under central management in all these places. 
Caritas restricts itself at present to 208 Upazilas (sub-districts) for integrated human development work. During emergencies, such as natural disasters, Caritas is operational in any part of the country.
Caritas Bangladesh is a member of Caritas Internationalis, a confederation of 165 Caritas Member Organizations over 200 countries and territories.