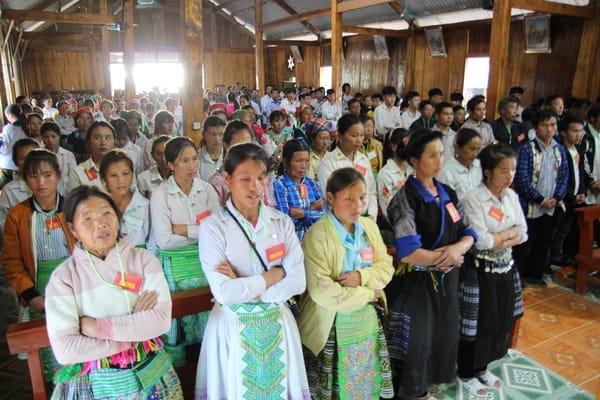 An ethnic Hmong catechist from Phinh Ho Parish in Vietnam's Yen Bai province has been kept in jail for spreading the Catholic faith among villagers, said a report by the Aid to the Church in Need.
John Sung Bla Giong, who has been conducting catechism courses for local villagers, and his four children were accused of drug trafficking and their relatives were not informed about their whereabouts and trials.
The octogenarian father of 12 is currently serving a 29-year sentence, said his daughter, Therese Sung Thi Hong, in an interview with Aid to the Church in Need.
Sung Thi Hong's three siblings and one brother-in-law, who also serve as catechists and lay leaders, were also sentenced to up to four years in jail on drug-related offenses. Three of them have already been freed.
Giong's parish, founded by French missionaries in the early 20th century, is home to 2,700 Hmong faithful from villages in two districts of Tram Tau and Van Chan.
The parish had no resident priests from 1952, when the last foreign missionary was expelled by the communists, until 2013, when a priest was sent to resume religious activities.
During the period when there was no priest, Giong conducted catechism courses.
"During the hard times without priests, many Hmong villagers from other places came to learn the Scriptures, catechism hymns and prayers in Hmong language at our home," said his daughter.
"My father, whose parents were baptized by foreign missionaries, taught [the villagers] in the evening to steer clear of government officials' oversight," she said.
"Public security officers and authorities did not arrest my father for his work until 2011, when they broke into our house, arrested him, and charged him with drug dealing," said the daughter.
"As evidence, they produced a packet as big as a brick containing heroin. We protested and one of the officials shoved me down on the ground, causing me to nearly suffer a miscarriage of my second child," said Sung Thi Hong. - LiCAS.news