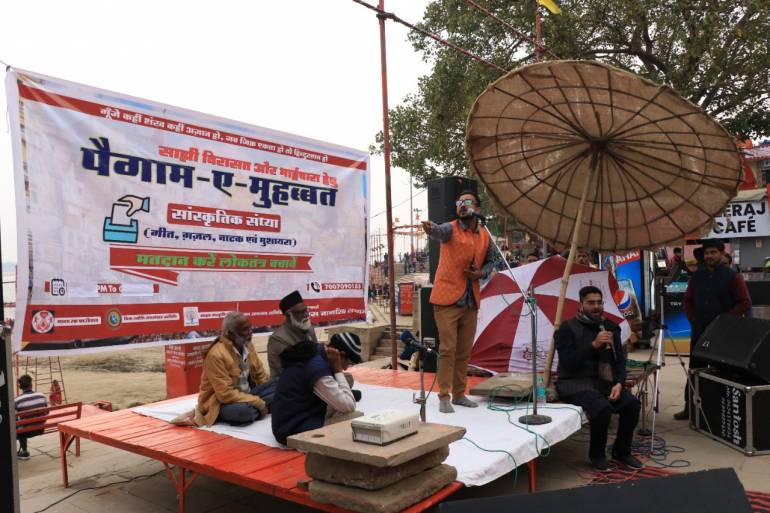 India's Civil Society organisations in Varanasi, the capital of Uttar Pradesh (UP), have come together to combat fundamentalist forces and prevent sectarian violence even as India's most populous state readies for elections.
In response to increasing incidents of hate speech and divisive ideologies spread by fundamentalist forces in and around Varanasi, five organisations  have jointly initiated a series of cultural events under the banner of Paigam-E- Muhabbat (Message of Love).
The campaign by the 'Banaras Nagrik Samaj,' a civil society group, is being led by  Indian Missionary Society Fathers Anand Mathew and Praveen Joshi. 
Manav Rakt Foundation, Vishwa Jyoti Jansanchar Samiti, Sajha Sanskriti Manch, and Jan Samanvy Samiti are the others who came together for this 'campaign for love.'
The third event of the campaign, an evening of song, poetry and drama, was held on January 8 at Assi Ghat on the bank of the Ganges in  Varanasi. Here, divisive elements had exhibited posters to warn non-Hindus against visiting the riverbank three days ago.
"We are expecting the elections in the month of February-March, and yesterday while the program was going on, we received the details of the election schedule. It is a voter awareness program. In UP, whenever there were elections in the past, there used to be communal violence. That is the strategy of polarizing the voters. We want to stop that." IMS Father Anand told RVA News.
The artists of Prerna Kala Manch, the theatre troupe of Vishwa Jyoti Communications of the Indian Missionary Society, presented the message of unity in diversity through songs on fraternal love, unity in diversity, and short plays on communal harmony.
Well-known poets of Varanasi and around recited poems and couplets (mushaira) during the cultural evening.
"Basically, this campaign is designed to prevent division,  so no riots or communal disturbance for the sake of elections. We want to prepare the people to be united. Most of the programs are being presented where there are mixed populations of Muslims and Hindus. We already had two programmes and now that the election code of conduct has been announced, we will need to take permission to continue it," Father Anand added.
"On January 2, last Sunday in different parts of the city, the  Hindu Yuva Vahini took out a motorbike rally with violent overtones, carrying saffron flags and wielding swords, shouting anti-Muslim and Anti-Christian slogans. On the 5th, they posted a poster on most banks of the Ganga, forbidding non-Hindus to come to the ghats, and circulated threatening videos on social media," said the priest.
"Many civil society organisations spoke out  against that and yesterday (January 8), some of these youths have been  arrested."
The 'Message of Love' campaign is expected to continue in other parts of the state, as soon as the required permissions are received, it is learnt.