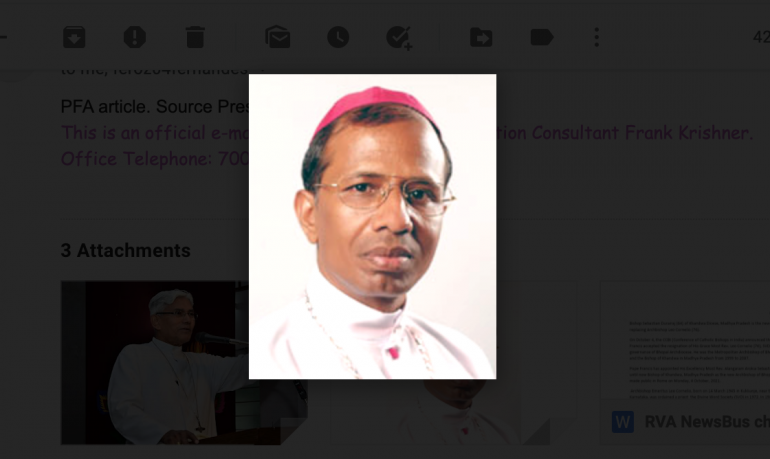 Pope Francis appointed Bishop Alangaram Arokia Sebastian Durairaj, SVD, as the new Archbishop of Bhopal in central India on October 4. Archbishop-elect Durairaj was the bishop of Khandwa Diocese in Madhya Pradesh in Central India.
The archbishop-elect  Durairaj will succeed archbishop Leo Cornelio, SVD, of Bhopal. Pope Francis accepted the resignation of archbishop Leo from the pastoral governance of the Bhopal Archdiocese. Archbishop Leo served the archdiocese of Bhopal from 2007 to 2021.
Archbishop-elect Alangaram Arokia Sebastian Durairaj, SVD, was born on May 3, 1957, at Thirunagar in the Archdiocese of Madurai in Tamilnadu in South India. He joined St. Charles Seminary in Tiruchirapalli for the Society of the Divine Word in 1971. He made his final profession in the Society of the Divine Word on July 12, 1984.
He was ordained a priest on May 8, 1985, at Thirunagar, Madurai, India.
Following his priestly ordination, archbishop-elect Durairaj ministered as a Parish Vicar in Jhabua (1985-1987), Procurator, S.V.D. Vidhya Bhavan (Philosophate) in Bhopal (1987-1988), and Prefect of Students at the Juniorate in Palda (1988-1993).
Father Durairaj studied counselling in the United States (1993- 1995) and was later appointed Spiritual Director, Khrist Premalaya Regional Philosophate, Bhopal (1995-1996), and rector of SVD Philosophate, Bhopal (1996-1999).
Father Durairaj complete a doctorate in Educational Psychology in Chicago (Illinois, USA) (2000-2003). He was appointed as Vice Director, Snehalaya, Spirituality Centre in Indore (2003-2004).
He served as a rector of S.V.D. Regional Philosophate and Provincial Superior for the Central Indian Province, S.V.D. (S.L.) (2005-2008).
Father Durairaj was appointed bishop of Khandwa diocese by Pope Benedict XVI on May 11, 2009. He has been a priest for 36 years and a bishop for 12 years.