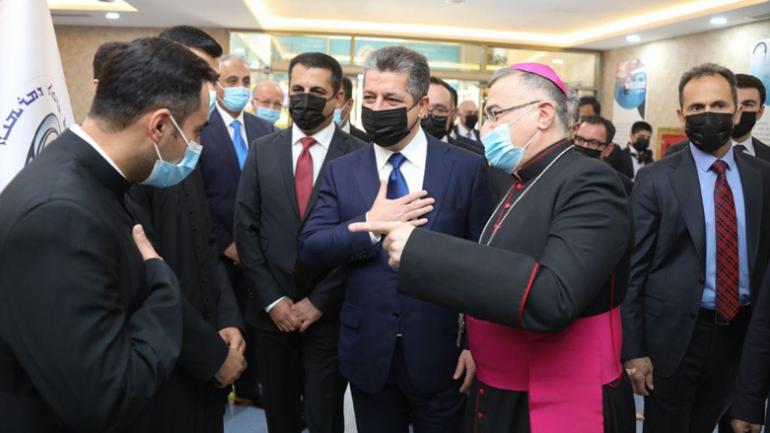 Christians in the Kurdistan region of Iraq have a reason to celebrate. October 4 was a historic day. Iraqi Prime Minister announced to form the biggest district of Christians in the Middle East.
"Ankawa will be the biggest district of Christians in the Middle East," Kurdistan Region Prime Minister Masrour Barzani said after a ceremony to inaugurate the Christian-majority area in Erbil city as its own administrative unit.
"Today, I have decided to place the Ankawa district of Erbil under the ministrative control of its Christian residents. This move gives Christians and other groups rights to nominate civic leaders, appoint officials, manage their own security, and directly shape their destinies," Barzani said in a tweet thread.
Prime Minister Barzani's announcement came shortly after a meeting with Syriac Catholic Archbishop Nathaniel Nizar Semaan of Adiabene and other bishops, including Chaldean Catholic Archbishop Bashar Warda of Erbil and Syriac Orthodox Archbishop Nicodemus Sharaf.
The creation of "the biggest district of Christians in the Middle East" has been warmly welcomed by local bishops.
Archbishop Bashar Warda, the Chaldean Catholic archbishop of Erbil, called it an "important" and "strategic" decision. "Our confidence in the future of Kurdistan makes us encourage Christians not only to stay but also to invest in this region."
Ordained a priest in 1993, Warda was consecrated in his current position in 2010. With Iraq's hemorrhaging of Christians since the 2003 US invasion,  many fled to Warda's bishopric in the autonomous Kurdish region.
In 2015, he established the Catholic University of Erbil and had coordinated relief aid from governments and charities alike. The situation stabilized following ISIS's defeat in 2017.
Thanking the KRG for "making this gesture," Archbishop Semaan, who is based in Ankawa, told local reporters, "The decision to make Ankawa a separate district will, we hope, be an important step forward both for the region and for the future of Christianity in Iraq."
The announcement by Masrour Barzani, Prime Minister of the Kurdish Regional Government (KRG), will mean people in Ankawa - home to 60,000 Christians - have devolved authority to elect civil leaders such as a mayor and powers over security and welfare support.
Until now, Ankawa, which is 80 percent, Christian, has been a sub-district of Erbil.
Ankawa's Christian population dramatically increased overnight in August 2014 after up to 120,000 faithful fled following the Daesh (ISIS) invasion of the nearby Nineveh Plains. Although large numbers have returned following the military defeat of Daesh, many Christians have stayed in Ankawa.
Praising the decision to make Ankawa a district, Nadine Maenza, chair of the US Commission on International Religious Freedom (USCIRF), stated, "Encouraging to see Marour Barzani's announcement that they will put Ainkawa under the administrative control of its Christian residents with the ability to …' directly shape their destinies.'"
"Most of [Ankawa's] residents have fled persecution in Nineveh, Baghdad, and Syria. They have been welcomed among us. And now we offer them the chance to lay deeper roots in a sanctuary of their own," Prime Minister Barzani added in a tweet.
The prime minister also visited Ankawa's Maryamana Hospital, "a private investment of $20m founded by the Chaldean Catholic Church with support from the US and Europe," he explained.
"The KRG has provided land and services to serve everyone in the community with affordable healthcare, for a better and safer future."
In 2014, ISIS drove Christians from Mosul and their traditional homeland in the Nineveh Plains, and thousands took refuge in Erbil and other cities in the secure northeast. From 1.5 million Christians in 2003, the Chaldean Catholic church now estimates a population of fewer than 275,000 Christians.