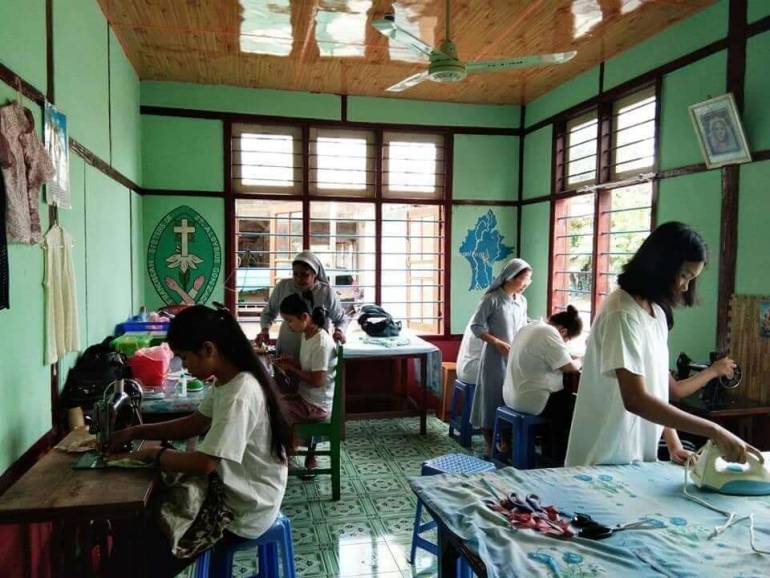 Young women in Myanmar enroll to learn a new tailoring skill amid sacristy, pandemic, and political turmoil.
The Franciscan Sisters of St. Aloysius Gonzaga did not expect an overwhelming response from younger women registering to learn the skill in their convent premises.
It all started small with six students at St. Elizabeth convent in Kalay Diocese Kalaymyo in September 2021. It is a three-month training course from Monday to Friday. Presently, there are 24 trainees at the convent training center. Thirteen candidates have already registered for the next batch.
The nuns want the trainees to focus enthusiastically on learning. "We do not have many requirements from trainees. We not only teach them, but we also share our talents among them," Sr. Anna Ciinpi Ngathe told Radio Veritas Asia.
The trainees include students, teachers and married people. All applicants are welcome irrespective of age, ethnicity and religious affiliations. There are no training fees, maybe those who reside in the premises donate for food and accommodation.
The nuns are helping the young people as a part of the Church mission and charitable work of their congregation.
"We were intending to lift the lives of the young girls in Myanmar for a long time, due to so many reasons it got delayed,"  Sr. Anna Ciinpi Ngai of the congregation  Franciscan Sisters of St. Aloysius Gonzaga told Radio Veritas Asia.
The nuns hope to better the lives of young women and equip them with professional skills. People in Myanmar has lost their job due to the pandemic and face a political crisis.
"In this difficult time, we do not want the young people to go astray.  We tried to find the way for them (young girls) as much as we can, that they may not go astray,"  Sr. Anna Ciinpi Ngai said.
The nuns have their set of difficulties in running the tailoring program. The center lack material for training. The sisters are also engaged in parish work. Amid all these constraints, the nuns dedicate time to teach others.
People started to volunteer time and material to help other women learn. Ma Anna, a professional tailor, allowed the nuns to use her tailing machines. She also volunteers at the center to help the women who attend the tailoring classes.
Bishop Felix Lian Khen Thang of the Kalay diocese has encouraged the new initiative. And the nuns have the generous support of their congregation and Superior General.
The nuns want to help the needy on a long-term basis.
"We cannot say how long. We keep on doing despite a lot of restrictions from the pandemic and political turmoil," the nun confessed.
The trainees look forward to earning a living based on the new skill and raising their families. That's the primary motive of most applicants to seek a better future through a new skill.
The nuns hope the tailoring initiative will be "good news to those in need."