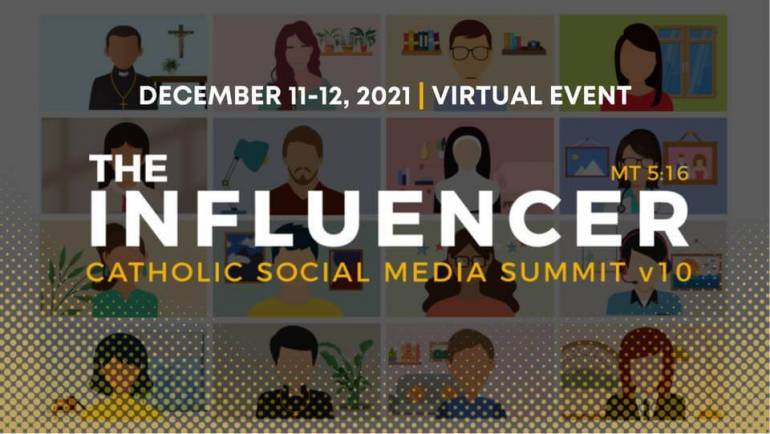 The 10th Catholic Social Media Summit (CSMS) will be held virtually from December 11 to 12.
YouthPinoy, a Catholic youth group, in collaboration with Areopagus Communication Inc. and CBCP News, will host the event under the Media Office of the Catholic Bishops' Conference of the Philippines.
According to the organizers, by and large, young professionals from various dioceses and congregations all over the country and the world participate at the CSMS, which started in 2012.
"The program aims at keeping Church workers updated with the latest trends and innovations on the most effective platform for evangelization, especially amid pandemics—the digital media," says a CSMS post on its social media page.
In the past, CSMS had a three-year campaign of the Online Missionaries that evokes Catholics to ACT: (Activate-2018, Connect – 2019, Transform-2020).
"As we celebrate this year the 500th year of Christianity in the Philippines, the Year of St. Joseph, as well as the 10th year of the Catholic Social Media Summit, the participants are encouraged to bring ACT into fruition utilizing diverse online means that would allow each one to experience and initiate a culture of authentic encounter in the digital sphere," says a CSMS note.
The COVID-19 pandemic created an unprecedented increase in doubt. Minds are filled with anxiety as social media transforms into an online obituary. There came a surge in physical and spiritual hunger and thirst. And "Normal" seems to be impossible," says the note from the organizers. Despite these, the presence of an influencer carries a spark of hope.
The theme for this year's summit is "The Influencers," inspired by Mathew 5:16 ("Just so, your light must shine before others, that they may see your good deeds and glorify your heavenly Father").
The organizers invite parish, diocese, organization, or group participants to join this year's virtual summit.
More than 16 distinguished speakers, including bishops, priests, lay professionals, writers, lawyers, and media experts, are roped in.
Some of the speakers are Archbishop Socrates Buenaventura Villegas of Lingayen-Dagupan, Bishop Joel Z. Baylon of Legazpi, an award-winning communicator Ilsa B. Reyes, Edwin Lopez (EWTN Regional Manager for the Asia Pacific Region) and others.
Besides those mentioned above, Tina Santiago Rodriguez, the "self-proclaimed media missionary" behind #TrulyRichandBlessed, will be speaking with her family on "Influencing Families with Jesus, Mary and Joseph."
The Rodriguez family is composed of Tina, her husband Anthony, and their five children.
"We are on a mission to encourage other families to journey with the Holy Family towards holiness. We are imperfect in so many ways but strive to be intentional in living out our faith," Tina told Radio Veritas Asia.