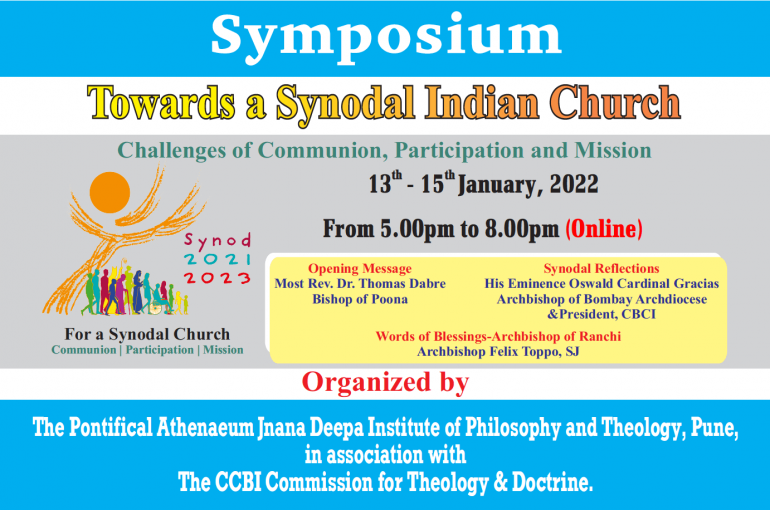 Jnana-Deepa Institute of Philosophy and Theology, Pune, western India and the Conference of the Catholic Bishops of India (CCBI), Commission for Theology and Doctrine, are organizing a symposium on 'Synodal Indian Church.'
The symposium's theme is "Towards a Synodal Indian Church: Challenges of Communion, Participation, and Mission" from January 13 to 15, said Jesuit Father Francis Gonsalves, executive secretary, CCBI Commission for Theology & Doctrine.
"Though initially, the symposium was to be conducted in the hybrid mode, however, due to the ongoing rapid spread of Covid/Omicron, the whole programme will be held online," said Gonsalves, who is also the president, Jnana-Deepa (wisdom-light) Institute of Philosophy & Theology.
Cardinal Oswald Gracias, Archbishop of Bombay and president of Catholic Bishops' Conference of India, will deliver a synodal reflection, while Bishop Thomas Dabre of Poona, Maharashtra, will present the opening message and Archbishop Felix Toppo of Ranchi, Jharkhand, will offer a word of blessings.
A galaxy of scholars—priests, nuns, and laypeople— will present papers on various topics.
The synod will provide diverse voices—of the laity, youth, women, married couples, grassroots activists, the sick and aged, the poor, and the peripheral—especially during the preliminary and diocesan phase, explained Gonsalves.
"We believe that journeying together with The Way-Jesus, along a path chosen by God's Spirit, will lead us all unfailingly to God's Home even amidst the pandemic and other winds and waves that might seem to stall our journey," he said.
Pope Francis called all Catholics worldwide to initiate a synodal process culminating with XVI Ordinary General Assembly of the Synod of Bishops in Rome in October 2023 on the theme: 'For a Synodal Church: Communion, Participation, Mission.'