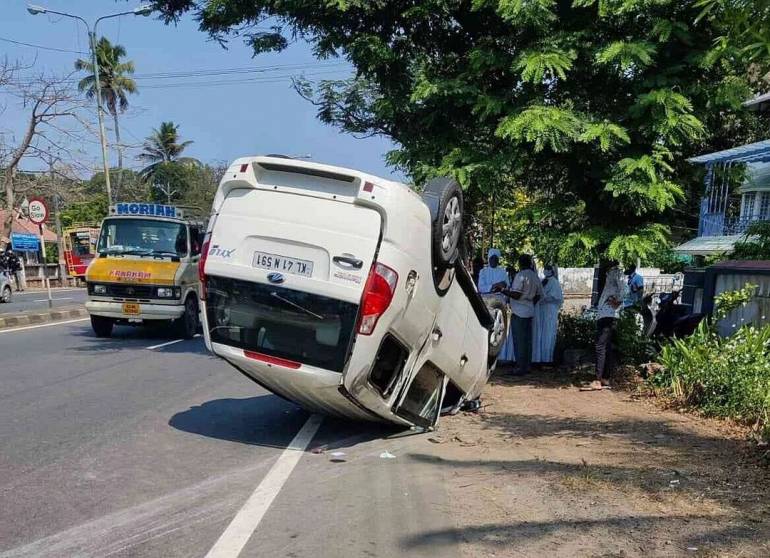 Six nuns and the driver in the southern Indian state of Kerala were injured in a vehicular accident on January 11.
According to sources, six nuns—Sister Jessi (71), Sister Theresan (67), Sister Gladys (72), Sister Praveena (45), Sister Pushpa (58), Sister Lena (68), and Sister Lina (68)—belonging to the Congregation of the Sisters of Nazareth from their Generalate (congregation's headquarters) at Choondy in Aluva were travelling to attend a funeral service of a nun's relative.
The accident occurred on the national highway near Angamaly Morning Star College in the afternoon when a public transportation bus hit the nun's Innova vehicle at the rear side.
Due to the impact of the collision, the nun's van turned upside down on the road.
Seven of them sustained injuries and bruises on their bodies and were out of danger. Local eyewitnesses brought them to the Little Flower Hospital, Angamaly, Ernakulam district, where they are recovering.
"A huge disaster was avoided as other vehicles were not on the road during the accident," said Cyriac Sebastian, a local Catholic lay leader.
According to him, the area is an accident-prone region as both sides of the road near Morning Star College are curved. When fast-paced vehicles pass, they can be in danger.
Due to the accident, there was a long traffic jam on the national highway, Sebastian said.