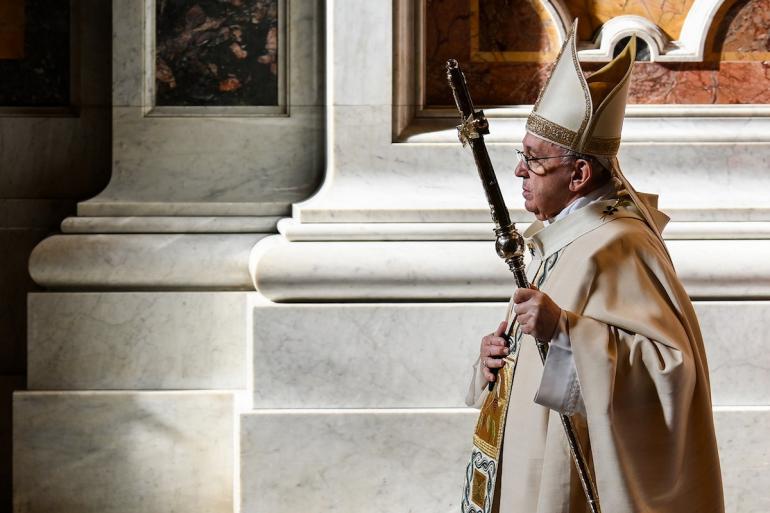 Pope Francis has reminded Catholics that the Church is "not a market" where "people go forward with a new business."
In his address during the weekly general audience on Nov. 25, the pontiff noted that the early Church had four fundamental qualities.
Pope Francis said the early Christians listened to the apostles' teaching, safeguarded mutual communion, broke bread together, and prayed.
"Everything in the Church that grows outside of these 'coordinates' lacks a foundation," said the pope as he continued his cycle of catechesis on prayer, which he began in May.
He said that to discern a situation, the faithful need to ask themselves whether the four "coordinates" — the preaching, the constant search for fraternal communion, charity, the breaking of the bread, and prayer —are present.
"Whatever is not part of these coordinates lacks ecclesiality, it is not ecclesial. It is God who creates the Church, not the clamor of works," said the pope
"The Church is not a market; the Church is not a group of businesspeople who go forward with a new business," he said, adding that the Church "is the work of the Holy Spirit whom Jesus sent to us to gather us together."
"The Church is precisely the work of the Spirit in the Christian community, in the life of the community, in the Eucharist, in prayer… always," he said.
He said he feels "tremendous sadness" every time he sees a community that has goodwill, "but takes the wrong road because it thinks that the Church is built up in meetings, as if it were a political party."
"I ask myself: 'But where is the Holy Spirit there? Where is prayer? Where is communitarian love? Where is the Eucharist?'" said the pontiff.
He said that without the four "coordinates," the Church becomes a human society, a political party — majority, minority — changes are made as if it were a company, according to majority or minority … But the Holy Spirit is not there."
He said the presence of the Holy Spirit is "precisely guaranteed by these four coordinates."
Pope Francis said the Church does not grow through proselytism, as any other company, "it grows by attraction."
"And who provokes attraction? The Holy Spirit," he said, quoting Pope Benedict XVI who said: "The Church does not grow through proselytizing, she grows by attraction."
"If the Holy Spirit is lacking, who is the one who attracts [people] to Jesus, the Church is not there. There might be a beautiful friendship club, good, with good intentions, but not the Church, not synodality," said Pope Francis. - LiCAS.news