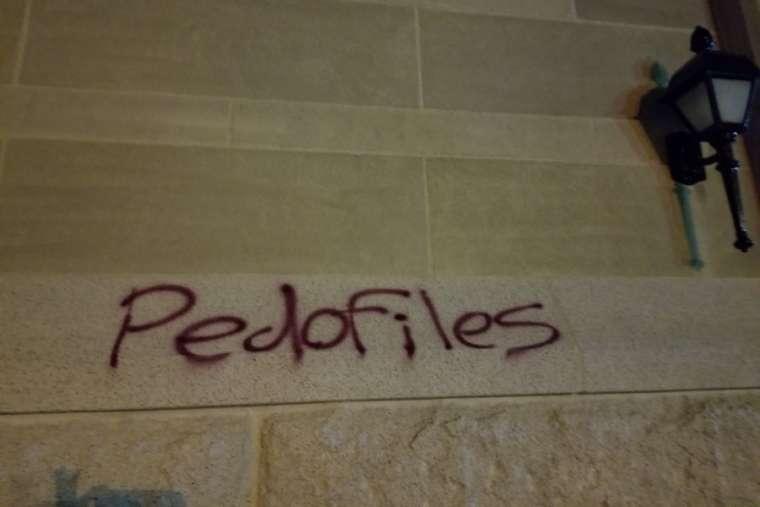 Catholic churches and cathedrals in several cities were among the buildings damaged in the protests and riots that occurred in the United States over the past week.
The Catholic News Agency reported that church buildings in California, Minnesota, New York, Kentucky, Texas, and Colorado were attacked. 
Many of the defaced or damaged churches were cathedrals. The Cathedral Basilica of the Immaculate Conception in Denver has reportedly sustained permanent damage. 
Vandals repeatedly struck the Denver cathedral on multiple nights of the protests and riots over the weekend. 
The church building and rectory were spray painted with the slogans "Pedofiles" [sic], "God is dead," "There is no God," along with other anti-police, anarchist, and anti-religion phrases and symbols. 
Gates surrounding the cathedral were damaged, and tear gas that was fired to disperse the protests leaked into the rectory. 
The doors to the cathedral are believed to have been permanently damaged by the vandalism and will reportedly need to be replaced. 
Three bags of rocks were collected from the parking lot, but the cathedral's most valuable windows were unharmed. Other windows on the cathedral's campus were shattered.  
St. Patrick's Cathedral in New York City was tagged with various graffiti, including profanities, "No justice, no peace," "BLM" (Black Lives Matter) "NYPDK." 
The name of George Floyd was also written on the stairs outside the cathedral.
Floyd's killing by a Minneapolis police officer on May 25 sparked a week of ongoing protests in cities across the country, some of which descended into violence.