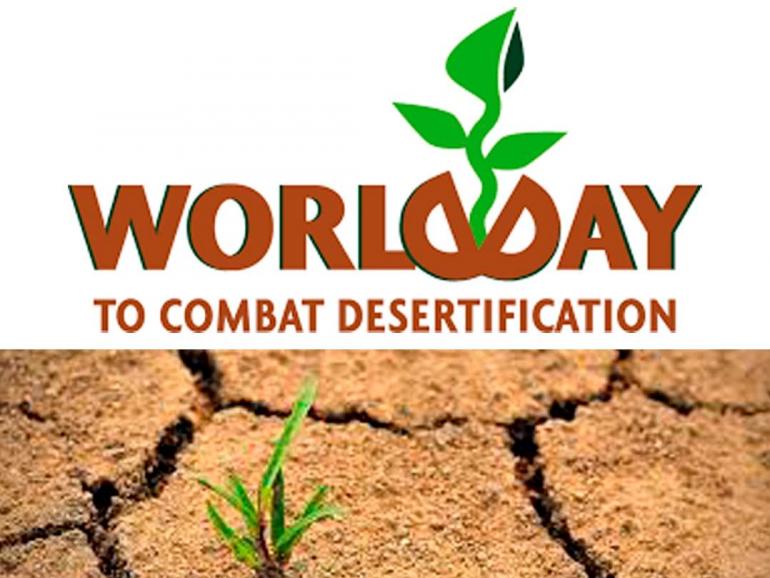 This day is observed every year to promote public awareness of international efforts to combat desertification. The day is a unique moment to remind everyone that land degradation neutrality is achievable through problem-solving, strong community involvement and co-operation at all levels.
Drought affects more people globally than any other natural disaster. Drought can have serious health, social, economic, and political impacts with far-reaching consequences.
Water is one of the most essential commodities for human survival, second only to breathable air. When there is a drought—which by definition means having too little water to meet current demands—conditions can become difficult or dangerous very quickly.
World Day to Combat Desertification and Drought,  under the slogan "Food. Feed. Fibre." seeks to educate individuals on how to reduce their personal impact. Desertification and drought are issues of a global dimension in that they affect all regions of the world, and that joint action by the international community is needed to addres them, particularly in Africa.
UNESCO provides scientific expertise thought its International Hydrological Programme (IHP) and its Man and the Biosphere programme (MAB). 
Dryland ecosystems, which cover over one third of the world's land area, are extremely vulnerable to overexploitation and inappropriate land use. Desertification is the degradation of land in arid, semi-arid and dry sub-humid areas; it is caused primarily by human activities and climatic variations, and affects the world's poorest. The decisions we make every day on what to buy, eat, drink, wear and how to travel – all have an impact on land resources.
As populations become larger, wealthier and more urban, there is far greater demand for land to provide food, animal feed and fibre for clothing. Meanwhile, the health and productivity of existing arable land is declining, worsened by climate change.
To have enough productive land to meet the demands of ten billion people by 2050, lifestyles need to change.  
"If we keep producing and consuming as usual, we will eat into the planet's capacity to sustain life until there is nothing left but scraps. We all need to make better choices about what we eat and what we wear to help protect and restore the land."
— Ibrahim Thiaw, Executive Secretary of the UN Convention to Combat Desertification
Food, feed, fibre is also contributing to climate change, with around a quarter of greenhouse gas emissions coming from agriculture, forestry and other land use. Clothing and footwear production causes 8 per cent of global greenhouse gas emissions, a figure predicted to rise almost 50 per cent by 2030.
With changes in consumer and corporate behaviour, and the adoption of more efficient planning and sustainable practices, there could be enough land to meet the demand. If every consumer were to buy products that do not degrade the land, suppliers would cut back the flow of these products and send a powerful signal to producers and policymakers.
Changes in diet and behaviours – such as cutting food waste, buying from local markets and swapping clothes instead of always buying new – can free up land for other uses and lower carbon emissions. Dietary change alone can free up between 80 and 240 million hectares of land.
Arlene A. Donarber