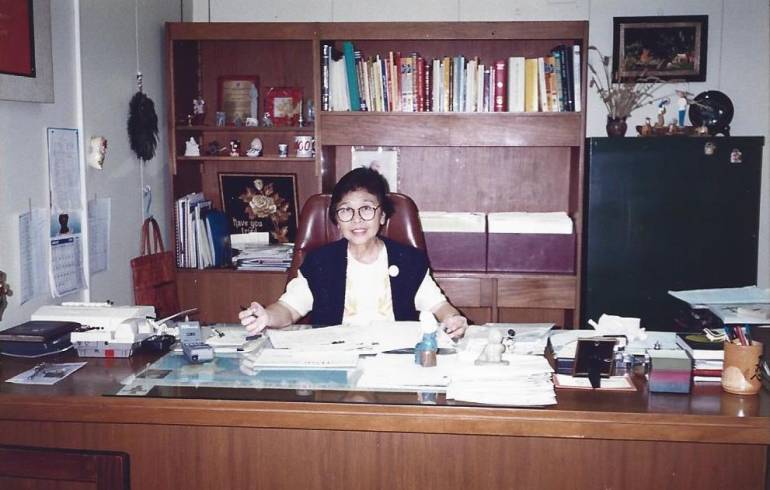 Radio Veritas Asia (RVA) mourned the death of Ms. Erlinda So, former General Manager.
She passed away peacefully on September 21, said Claretian Father Victor F. Sadaya, the current General Manager of RVA.
Erlinda was the first General Manager of RVA after the separation of Home and Overseas services from 1990 till 2000.
A burial Mass was held on September 24 at 11 in the morning at Notre Dame de Vie in Angat, Bulacan, 35 kilometers north of Manila.
RVA offered Holy Mass on September 25 for her eternal repose at the RVA Chapel, said Father Sadaya.
Erlinda was a member of "Notre Dame de Vie" (Our Lady of Life), a secular institute. It is made up of three independent branches: priests, laymen, and laywomen. Carmelite spirituality is lived by a community of consecrated laymen, women, and priests under the motto "to live an ordinary life while being fully consecrated to God and for the world."
A former coordinator of RVA's Filipino broadcast, Ms. Suzette Canilao-Han, described Erlinda as an able manager who always showed concern for colleagues and staff.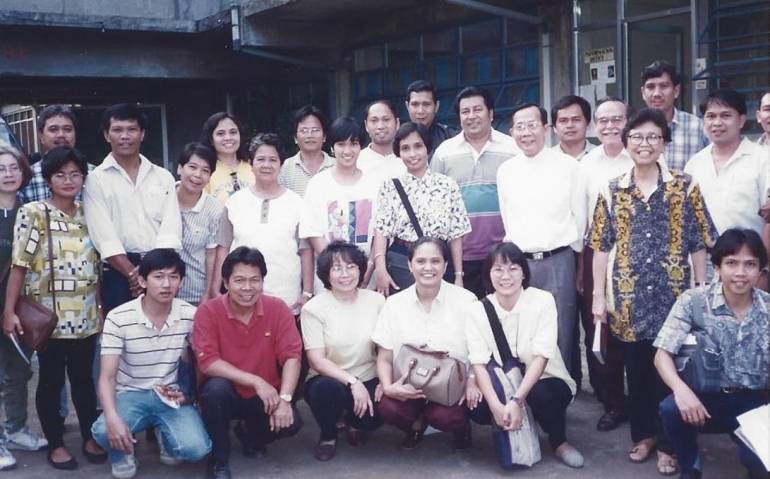 "In my 28 years of employment in Radio Veritas Asia, I have served under five General Managers, Ms. Erlinda being the only woman leader of the institutional radio organization for Asia, RVA," said Canilao-Han.
Canilao-Han explained that it may not be easy to undertake comparisons among the five managers, each of whom has its strengths, quirks, and unique differences.
"Ms. Erlinda was different. Being a woman myself, I found it easy to understand her ways, even to a point of identifying with her perceptions," Canilao-Han recalled.
The management of a household is usually a woman's turf, and that was exactly how Ms. Erlinda regarded her work in RVA. She has turned the station into an extended family, managing both the big and small details of the day-to-day operations.
Her meticulous eye for detail, infused with natural maternal care and concern for situations, rendered the performance of her duties most effective.
"In simple and straightforward approaches to challenging situations, she was able to cope with the demands of her duties in challenging situations," Canilao-Han told RVA News.
While many considered Erlinda a conservative personality with a given strictness in policy implementation, most employees, by and large, accepted her approaches to management. They were aware of her background, her inclinations, and her training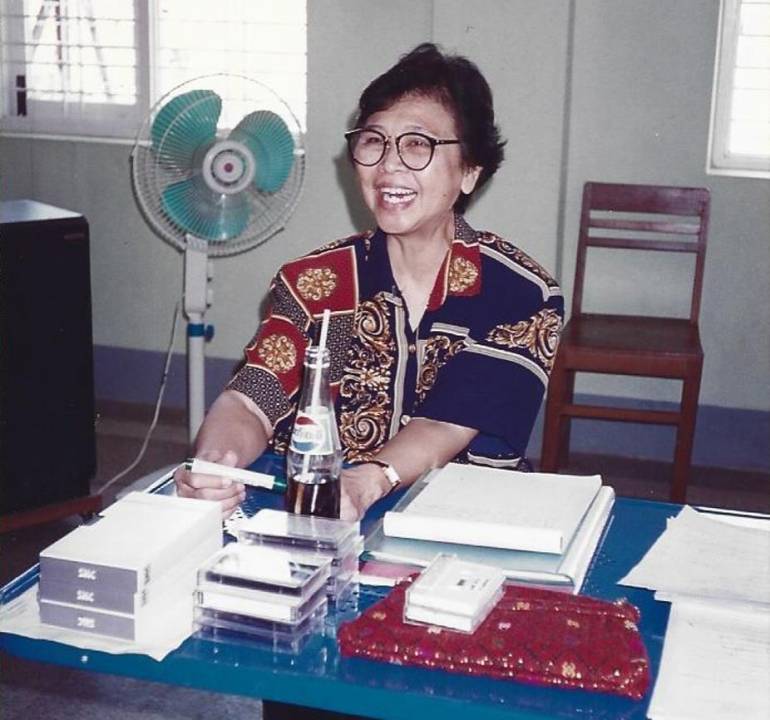 "A catechist and a devout formator at heart, her outlook, demeanor, and lifestyle reflected the path she had chosen. Her life as a lay member of the 'Notre Dame de Vie' institution gave shining witness to the mission goals and values of her institution," said Canilao-Han.
According to Canilao-Han, "In her desire to share Christ in everybody's life, her life has in itself become a catechism personified."
Before Erlinda joined RVA as a part-time content producer and later a full-time staff member, she was the manager of DZJO, a local radio station in Infant, Quezon, owned by the church.
She was also connected with the National Office of Mass Media, with the late Jesuit Father James Reuter as director.
In the beginning, Erlinda was producing her own children's show for RVA's Filipino Service.
After RVA had its studio and produced the program, she had already been there for two years, producing a children's program.
Almost every week she went to RVA before being called full-time to RVA. This was not the only thing that triggered Jesuit Father Jean Desautels, at the time Executive Secretary of the Office of Social Communication of the Federation of Asian Bishops' Conferences (FABC), to call her into that position.
She joined RVA in September 1989 as the first program director and was part of the task force to organize the separation of the Overseas and Home Service.
He also knew her as a manager of DZJO and as somebody known to the funding agencies in Germany.
Erlinda was active in 'Unda', the Catholic world organization for radio (now 'Signis'). She had been president of 'Unda' Philippines and represented the country in international meetings.
The 'Unda' World Assembly in 1990 elected her as the president of UNDA-Asia, a position she held till 1996.
In one of her interviews with RVA, she said, "My happiest moments in the work for Radio Veritas Asia were when the bishops and even Pope John Paul II (1995) came to confirm that we were doing the right thing."
"At the beginning of my tenure, I tried to instill in our people the fact that we were doing missionary work. We are not there for popularity or to gain money. Working for Radio Veritas Asia is missionary work, and thus everybody is a missionary. They are helping on the mission to Asia," she said.
One of Erlinda's legacies at RVA was her sense of mission. She instilled in the minds of all employees, local and foreign, the conviction that they were working for the Church.
"It is the work of Jesus, so we must always have communication with God and Jesus because it is His work. We may earn our living there, but it is ultimately the work of God. Any work in a station like RVA will finally be successful only if we are in communion with God," Erlinda said.
Within the ten years of her tenure, the Internet came; this seemed to threaten short-wave broadcasting. She was thankful for the advanced ideas of Father Jean Desautels and especially for the long-time program director of RVA, Monsignor Pietro Nguyen Van Tai, a Vietnamese, who was courageous enough to try things for Vietnam. Msgr. Tai was the first one to put the Vietnamese program online in those days.
"For all this, I wanted to train people, even if I did not train myself. In my catechetical work, I attempted to send people to school, train them, and teach them about new technological developments," she said. "This would also help to usher them into the new millennium."
She was convinced that there was still a need for RVA in Asia. But RVA must also respond to new technical developments and possibilities. RVA has to continue to form Christian communicators.
"That's why when I retired, I felt at that stage that some other people might be able to do this better," Erlinda said.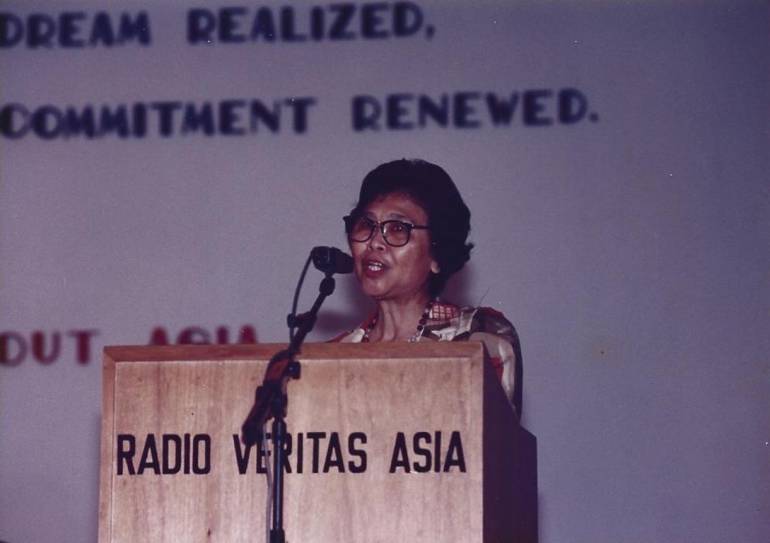 ---
Radio Veritas Asia (RVA), a media platform of the Catholic Church, aims to share Christ. RVA started in 1969 as a continental Catholic radio station to serve Asian countries in their respective local language, thus earning the tag "the Voice of Asian Christianity."  Responding to the emerging context, RVA embraced media platforms to connect with the global Asian audience via its 21 language websites and various social media platforms.