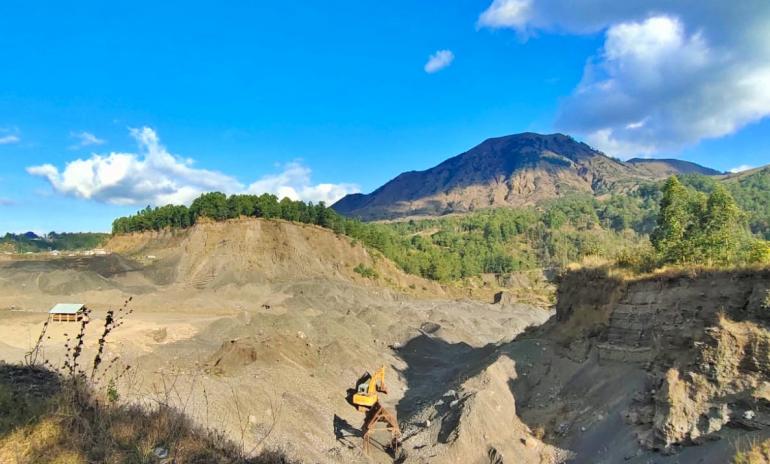 The slopes of Mount Batur, Kintamani, Bali in Indonesia look like a meteor hit area. Giant holes with a depth of twenty meters, more than the width of a football field. A closer look reveals workers dredging sand with shovels or backhoes, sand trucks going back and forth, and the roaring sound of the machines.
"Every day, there are more than 200 trucks carrying sand back and forth," Ni Ketut Arini, a resident on the slopes of Mount Batur, told Radio Veritas Asia in an interview.
"During this coronavirus pandemic, the number of trucks has decreased. In normal times, there were almost 500 trucks daily," she added.
The Bali Public Works Department has identified almost 150 mining businesses across Bali as illegal, and only 58 are licensed.
The illegal mining businesses extract sand and stone in the province of Bali, an island well known for tourism, besides known for its forested volcanic mountains, iconic rice paddies, beaches, and coral reefs.
Komang Bagong (29), one of the truck drivers, said that a truck transports sand twice a day on average. Bagong leaves early morning to transport sand to its destination and returns in the afternoon for the next trip.  
"On average, the drivers used to transport sand twice a day to sell in the city. Currently, most drivers work privately," said Bagong. "We buy directly from illegal miners and then sell it."
The rise of sand mining in Bali began in 1999. At first, residents only used shovels. The simple equipment began to be replaced when big investors from Java entered the sand business. 
Java lies between Sumatra and Bali. Java, a volcano-dotted island, is at the geographic and economic center of Indonesia. It is home to more than half its people. Java's largest city is modern, sprawling Jakarta, the nation's capital.
Many residents from Bali are now working as sand miners. They work for 8-10 hours per day in groups of 6-10 people. They can get around $35 a day from one truck, which is then divided among the group.
According to one resident, they can earn US$ 100 to US$150, an amount below the regional minimum wage. But for the residents, being a sand worker is now the main job.
"Even though it (money) is less in terms of earning, we can get it every day," said Kadek Rasmi, one of the sand miners in the Karangasem district, the eastern part of Bali.
The income per day is not comparable to the tremendous loss of wealth in their village. In some areas, the beautiful hills are now being replaced with huge ravines resulting from sand mining.
One of the mine guards said, at first, all the area was hilly. After continuously dredging, only a gaping hole remains. 
Illegal mining companies move quickly when the sand runs out, leaving the area in an environmentally vulnerable state. In addition to the loss of hills, the other negative impact is the loss of groundwater sources.  
According to Suriadi Darmoko, Bali Forum for the Environment's director, uncontrolled sand mining has eliminated water sources. As a result, residents have difficulty accessing clean water.
"Without sand that absorbs water, rainwater will flow directly on the ground and can cause flooding," the NGO's director said.
"If the sand continues to be dredged without rehabilitation, then one-day flash floods will occur," he added.
In addition to illegal sand mining in the mountains, there is also sand mining on the coast currently on a small scale. "The damage caused by illegal sand mining is everywhere. Not only in the mountains but also on the beach," said Darmoko.
Darmoko says sand and stone mining is a serious problem. The government needs to act firmly against illegal sand mining. Aside from forbidding illegal sand mining, Darmoko urges the government to oblige the sand mining companies to rehabilitate the land .- Emiliana Saptaningsih