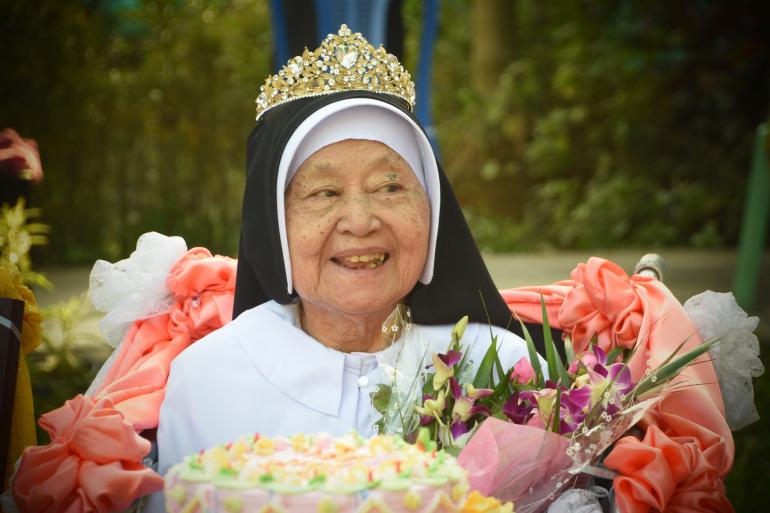 Sister Mary Joseph, former superior of the Congregation of St. Francis Xavier Sisters, died on December 1 in Pathein, Ayeyarwady Region, in Myanmar. She was 85.
The nun was elected Mother General of the congregation from 1994 to 2000 and served as a religious sister in the Catholic Church for 61 years. 
She professed her first vow on May 6, 1959, and her final vow on May 5, 1965.
Sister Mary later took further studies in Auckland, New Zealand, in 1961 and became a teacher in Pathein in December 1963 and in Kanbet, Yangon, in 1965.
She was appointed an assistant sister in May 1966 in Pathein, in Myitkyina, and in May 1970 as superior in Tart Kone in Myitkyina.
Sister Mary was sent to Italy for studies in November 1981 and in the Philippines for mission in 1988. She came back to Myanmar and was appointed at the formation house in Mayanchaung, Pathein, in 1993.
She was named superior in Myait in Taningthari Region in 2000 and in Pathein in 2003.
Sister Mary worked in Italy for a year from 2006 to 2007 and opened a new convent there, and visited the United States from October 2007 to May 2008.
She was a member of the elected general councilors of the congregation for two terms from 1982 until 1994.
She retired in May 2018.
Funeral rites for Sister Mary was held on December 2 inside the seminary compound in Mayanchaung in the town of Pathein.  
"Sweet December is the day when Mother Mary Joseph is granted to enter the heavenly realm of God," said Father Bosco Saw Lar Htoo.
The priest said that the nun, who had cancer, always said: "I offer my sufferings for all priests and all nuns in my congregation."
"Although she was a superior general, she obeyed the words of the young nuns who cared for her. She was humble and faithful to the end of her life as a humble and faithful servant of God," said Father Saw Lar Htoo. - RVA Pwo Karen Service