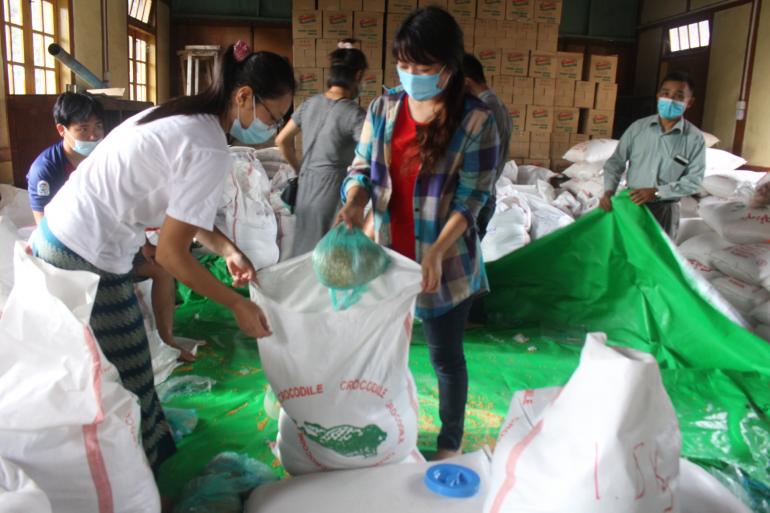 The Catholic Diocese of Myitkyina in the northern part of Myanmar has distributed food aid to poor families and those badly affected by the coronavirus pandemic in its 25 parishes.
Among those most affected by the pandemic are thousands of people in the country's Kachin State who have been displaced due to the continuing armed conflict between government and rebel forces. 
"Due to the pandemic, people in Kachin State have become poorer and without jobs, and they requested support through the parish priests," said Father Paul Wanghte Lum Dau, chancellor of Myitkyina diocese.
Since the government declared a lockdown in the area, the diocese, under the guidance of Bishop Francis Daw Tang, formed a Diocesan Covid-19 Response team.
Father Noel Naw Lat, director of the Socio-Pastoral Coordination Office of the diocese, said they were also able to distribute masks, gloves, thermometers, and hand sanitizers to volunteers and staff.
"Through this support, we hope that we will be able to strengthen our coordination within the areas," he said.
Bishop Francis Daw Tang said the people in Kachin State, especially the internally displaced persons, "have been struggling to survive."
"Now in this pandemic times, they have ben facing another problem," said the prelate.
Among the target areas for relief distribution are poor communities and camps of internally displaced people.
In May, parish volunteers and seminarians were trained, with the help of international NGOs, the UNICEF, and the World Health Organization in handling the relief program.
In turn, the volunteers were able to conduct awareness drives in the 25 parishes and broadcast news and information about COVID-19 in the various Radio Veritas Asia language services. - RVA News