Philippine Catholic bishops urge faithful to respond to pandemic 'with eyes of faith'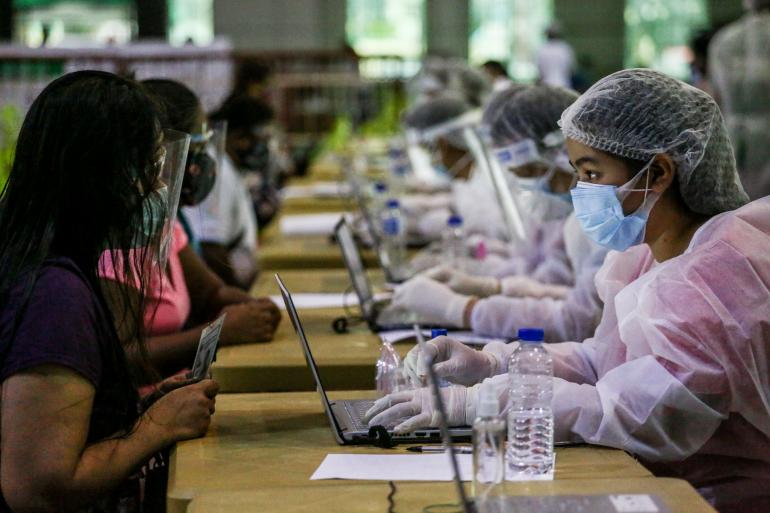 Catholic church leaders in the Philippines urged the faithful, especially church institutions, to respond to the coronavirus pandemic "with the eyes of faith, with the heart of charity, and with the armor of truth."
In a pastoral letter released on Wednesday, August 12, the country's Catholic bishops appealed to communities to help provide the public an "access to the truth."
The letter was issued by Archbishop Socrates Villegas of Lingayen-Dagupan, head of the commission on seminaries, and Bishop Roberto Mallari of San Jose, chairman of the commission on catechesis and Catholic education.
 
The bishops urged Catholic academic institutions "to make sure that scientific studies" about the pandemic are widely shared in the general public "using reason, science, and Catholic social teachings."
"Although medicine is not our expertise in seminaries, let us drink from the well of Catholic social teachings how to face this worldwide pandemic," read the letter.
The church leaders said that access to vital information and studies about the disease "will free [Filipinos] from baseless fears and unnecessary anxieties."
They urged faith communities to conduct "circles of study and discernment" and "disseminate a holistic perspective" about the health crisis, "even if these are contrary to the prevailing narrative."
The prelates said the public must hear "responsible and reasonable voices" that are "critical and discerning against false narratives prevalent in the media and the many unscientific unreasonable public policies."
The prelates pleaded with the media for "balanced" reporting, saying, "science and facts have evolved away from the original narrative that caused and surrounded the lockdowns."
The bishops urged media practitioners and news outfits to become "truly independent and fearless," and to "follow the truth wherever it may lead."
"Once you understand the issues better, find creative ways to be active in bringing a solution in the light of the Gospel. This is our Christian social responsibility," read the statement.
"We must hold on to and protect our freedoms of thought, movement, speech, and assembly," it added. - LiCAS.news