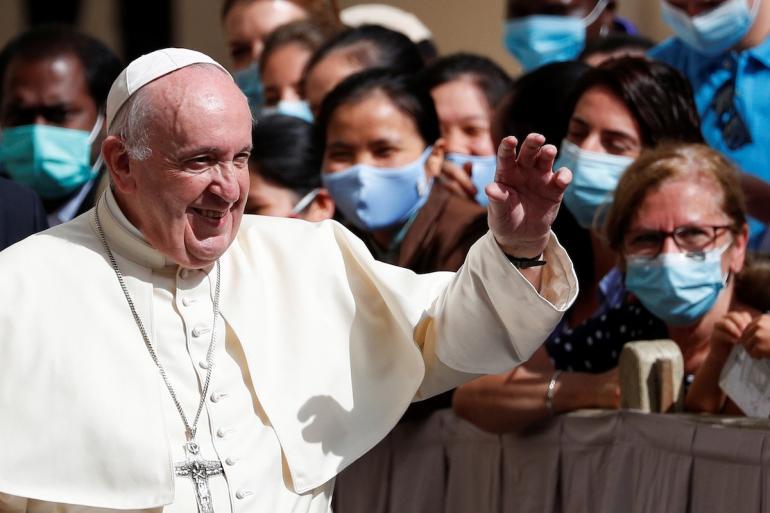 Pope Francis calls for a "better kind of politics" and a more "open world" in his new encyclical titled "Fratelli tutti," which was released on Sunday, October 4, feast of St. Francis of Assisi.
The words "Fratelli tutti," or "Brothers all," are taken from the sixth of 28 admonitions, or rules, that St. Francis of Assisi issued for his brother friars to follow.
Pope Francis says these words offered the followers of the saint "a way of life marked by the flavor of the Gospel."
The 45,000-word document containing eight chapters is Pope Francis' longest encyclical since he became leader of the Catholic Church in 2013.
The pontiff expresses hope that the document, which proposes an ideal world of fraternity, will promote a "rebirth of a universal aspiration" toward "fraternity and social friendship."
Pope Francis signed the encyclical in the town of Assisi on October 3, eve of the feast of St. Francis.
A papal encyclical is a specific category of papal document, a kind of letter concerning Catholic doctrine, sent by the pope and usually addressed especially to church leaders.
These are usually written in Latin and, like all papal documents, the title of the encyclical is usually taken from its opening words.
An encyclical is generally used for significant issues and is second in importance only to the popes' Apostolic Constitution, the most solemn form of legislation issued by the pope.
Call for love
Pope Francis opens "Fratelli tutti" by calling "for a love that transcends the barriers of geography and distance."
He notes that St. Francis always "sowed seeds of peace" and accompanied the "least of his brothers and sisters" wherever he would go during his lifetime.
St. Francis did not "wage a war of words aimed at imposing doctrines," writes Pope Francis, but "simply spread the love of God."
The new encyclical draws on previous Church teachings and also on the writings of St. Thomas Aquinas, a Doctor of the Church.
It also cites the "Document on Human Fraternity" that Pope Francis signed with the Grand Imam of Al-Azhar university, Ahmad Al-Tayyeb, in Abu Dhabi in 2019.
Pope Francis writes that the encyclical "takes up and develops some of the great themes raised in the document."
He says he also incorporated "letters, documents and considerations … from many individuals and groups throughout the world."
The pontiff says he does not intend the document to be a "complete teaching on fraternal love," but rather help further "a new vision of fraternity and social friendship that will not remain at the level of words."
In his introduction, the pope writes that the coronavirus pandemic, which he says "unexpectedly erupted" as he was writing the encyclical, underlined the "fragmentation" and the "inability" of countries to work together.
He says "Fratelli tutti" aims to contribute to the "rebirth of a universal aspiration to fraternity" and "brotherhood" between all men and women. - LiCAS.news