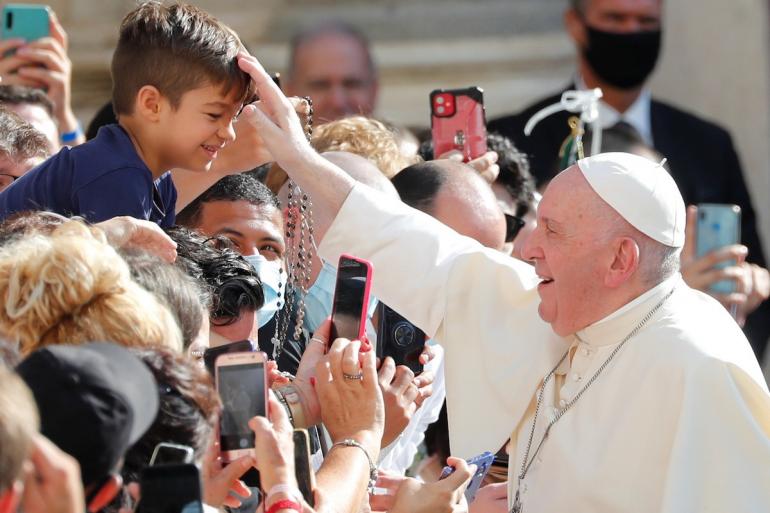 Pope Francis stressed on the need to build a "civilization of love," which he said goes beyond personal relationships, to address the impact of the global health crisis.
"A virus that does not recognize barriers, borders, or cultural or political distinctions must be faced with a love without barriers, borders, or distinctions," said the pontiff in his weekly address.
In his General Audience on Sept. 9, Pope Francis said humans are social and political beings who are capable of the "highest expressions of love."
The pope said "social and political love" are necessary to human development for people to be able to face any type of crisis.
"We know that love makes families and friendships flourish," he said.
"But it is good to remember that it also makes social, cultural, economic, and political relationships flourish, allowing us to construct a 'civilization of love,'" added the pontiff, quoting Pope St. Paul VI.
He said inclusive love can "generate social structures that encourage us to share rather than to compete."
The pope said that this kind of love allows people "to include the most vulnerable and not to cast them aside" helps people express "the best in our human nature and not the worst."
"True love does not know the throw-away culture, it does not know what it is," he said.
"In fact, when we love and generate creativity, when we generate trust and solidarity, it is then that concrete initiatives emerge for the common good," added the pope.
Pope Francis said the expression of affection and compassion "is valid" at both the level of the smallest and largest communities, and in the international level.
"What is done in the family, what is done in the neighbourhood, what is done in the village, what is done in the large cities and internationally is the same, it is the same seed that grows, grows, grows and bears fruit," he said.
"If you in your family, in your neighbourhood start out with envy, with battles, there will be war in the end," added the pope.
"If you start out with love, to share love, forgiveness, there will be love and forgiveness for everyone," said the pontiff. - LiCAS.news