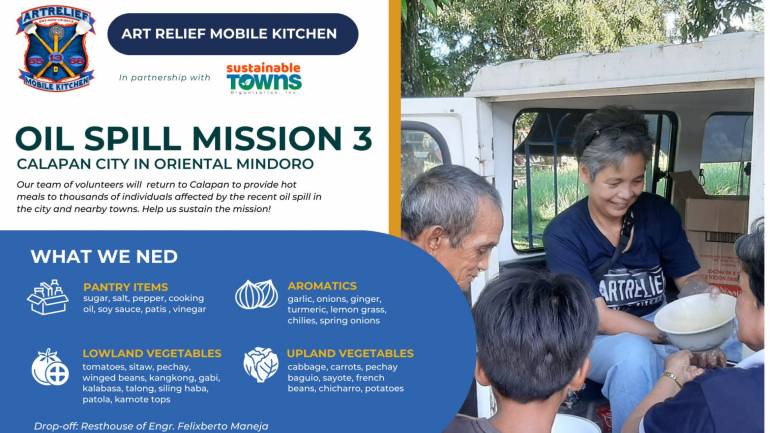 Art Relief Mobile Kitchen (ARMK), a mobile kitchen dubbed by artists, has been serving thousands of people in disaster-stricken areas of the country with hot meals.  The volunteers who serve the food refer to it as the "Faith in Action" ministry, and feeding the impoverished is a form of prayer.
After more than 10 years of serving hot meals, couple Alex Baluyut and Precious Leaño are still teary-eyed as they relate their experiences about providing relief to distressed people whose area is affected by disasters, either natural or human-induced.
Some of these are war, typhoons, quakes, fires, pandemics, volcano eruptions, droughts, and oil spills.
Baluyut was a photojournalist for 35 years, and Leaño was a theater artist before they embraced what they call the "mission" of providing "emergency relief" to the hungry.
They started this charitable service in 2013, when super typhoon Yolanda (international name Haiyan) devastated Tacloban in the Central Philippines.
The couple initiated serving hot meals to grief-stricken survivors who were flown to Villamor Air Base in Pasay City, where they put up a makeshift kitchen.
"We haul our kitchen equipment to ground zero and cook hot meals for people in distress. ARMK has launched more than 100 feeding missions throughout the Philippines and has served more than 800,000 hot meals," said Baluyut about the humanitarian non-profit organization.
Fellow artists were the first to respond to their call for action, and other people from all walks of life followed. 
"People are good, compassionate, empathetic, creative, and innovative," said the couple.
ARMK has been culture-sensitive, so they cook only halal food in Muslim communities. 
They had consulted with Muslim leaders before opening a kitchen for them and ensured that all cooking utensils were new and had never been used to cook pork or other foods forbidden in the Quran (the bible of the Muslims).
Faith in Action Ministry
Omar Uycoque, a professor at a college, is one of the people who have chosen to continue the mission of ARMK by becoming head of the Mindoro branch. He describes it as a faith-in-action ministry, and feeding the poor is praying.
"The experience is priceless and fulfilling. We (volunteers) hope to grow in number. A lot needs to be done," said Uycoque.
"Helping others is spiritual for me. It is deeply rooted in my Spirituality (God)  that, as a human being, helping others is our duty. We cannot live on our own, we need each other. Feeding the needy is praying for me," said Uycoque.
"Even if we go to Church every day but do not care about the cry of the poor or hungry or needy, we are not Christians. I may die poor, but at least I was able to give something to the Community. That means my faith is bountiful or rich," Uycoque explained.
Additionally, he drew inspiration from his artist cousin Fatima Luna, also known as Little Wing Luna, an ARMK volunteer, and the organization's first photographer, who advised him to "Give until it Hurts."
His involvement in the humanitarian organization was when ARMK leaves the community, some locals continue the mission, which was encouraged by the initiator and founder, Baluyut and Leaño.
"We leave a set of kitchen equipment in disaster-prone areas that local volunteers can use. Community kitchens work when there are dedicated volunteers who aim to support their communities," said Alex.
They have opened local chapters in strategic areas of the country, allowing for a better relief response in times of disaster. 
These are in Tuguegarao, Laguna, Leyte, Bacolod, Davao, Zamboanga, and Surigao, and the latest is in Mindoro Island.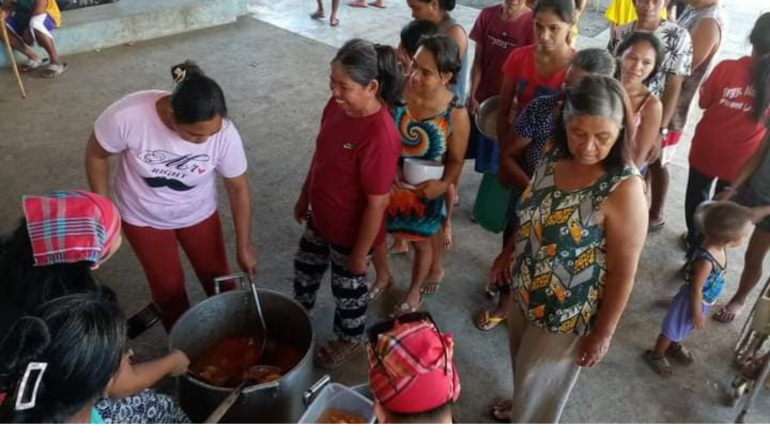 Miracles
Baluyut said the mission is fulfilling in the company of selfless volunteers, including those in the community, despite huge logistics challenges.
He said they had been living on miracles, and people's generosity, without expecting anything in return.  Before the feeding programs, they experienced being asked for a speech (like politicians do).  "We say, no need, people are hungry, let's eat at once," said Baluyut.
Calling himself a "kusinero" (kitchen man), he learned to cook when he was just a kid as he watched, with awe, as elders ground rice for kare-kare (Filipino curry). He didn't imagine he'd embrace a life of cooking for communities.
ARMK cooks healthy, colorful, and creatively prepared foods, with ingredients that are locally sourced.
"What we feed our family, with the same quality and generosity, we feed others. When there are leftovers, we still share them," said Leaño.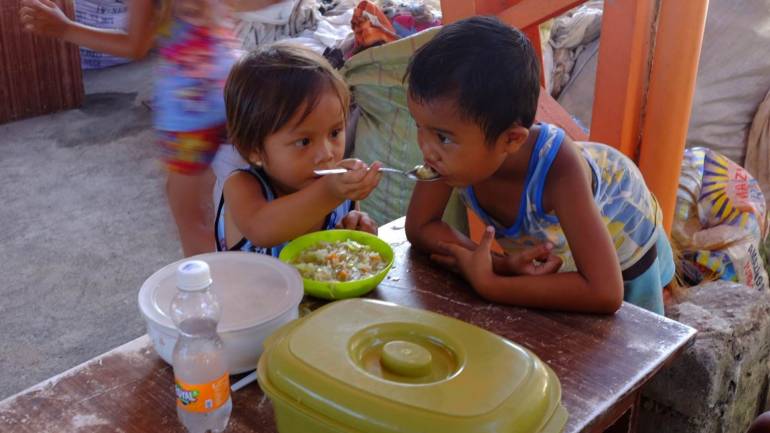 Joys and challenges
"The greatest joy is to witness distressed, hungry people getting to eat their first hot meal after a disaster. I often feel an overwhelming, spiritual experience when I see the evacuees sip that hot soup with a lot of meat and vegetables, it always brings me close to tears, and I usually turn my back so as not to show my tears," said Baluyut.
"It is also an inspiring sight when volunteers from the locality come to help out in the kitchen. Many hands make the work more fun and faster," he said.
If there are things not obviously known to the public, it is security because the communities ARMK serves are disaster hit. 
"We may get stuck in floods, landslides, combat zones, danger zones during a volcanic eruption, and others, but we try to keep everybody safe with our local contacts," said Baluyut.
They do an ocular inspection and briefing of volunteers, like in an earthquake area, on where to enter and exit.
As of this writing, the couple is at their headquarters in Los Banos, Laguna Province.
"Our last missions were  in Albay for the Mayon eruption, and our Davao chapter responded to flooding in their locality.  We are also raising funds for the post-storm Egay response," said Baluyut.
Abby Pacquing is among the supporters of ARMK.  "I love ARMK's advocacy of providing home cooked hot meals amidst a disaster setting and more than feeding the physical body, they are also nourishing the hope that things will get better," she said.
"Almost as a knee-jerk reaction to natural calamities, we commonly scramble to provide supplies that could sustain survivors in the aftermath of their evacuation. But we often forget the immediacy of their need in the here and now, and when you barely escaped the tragedy with just the clothes on your back, you won't necessarily have the kitchen tools to cook the standard fare of noodles, canned goods, and the like," said Pacquing.
"I'm not necessarily religious but I believe in a higher being that works in my life and has guided my every step. Whatever I've achieved is a blessing and often facilitated by earth-bound angels, so I choose to pay it forward. Indeed, whatever you do for the least of my brethren, you did it for Me," said Pacquing.
ARMK relies mostly on individual donations, with rare corporate funding. "We constantly make our call for donations as we have to refill our coffers for the next mission. Logistics are a major challenge in our line of work, and we constantly learn from all our missions," said Baluyut.
"We are in the process of strengthening our headquarters and local chapters. We are applying for more grants to help sustain our advocacy. We are very much in need of a vehicle ( a truck) that can consistently ferry our volunteers, equipment, and food supplies," said Baluyut.
Well, I myself, through the years, have disconnected from my faith, I am not so much a praying man, but my experiences with ARMK somehow revived my spirituality, For a worn down cynical photojournalist who has seen it all, I truly am finally found and believe in miracles," said Baluyut.
---
Radio Veritas Asia (RVA), a media platform of the Catholic Church, aims to share Christ. RVA started in 1969 as a continental Catholic radio station to serve Asian countries in their respective local language, thus earning the tag "the Voice of Asian Christianity."  Responding to the emerging context, RVA embraced media platforms to connect with the global Asian audience via its 21 language websites and various social media platforms.