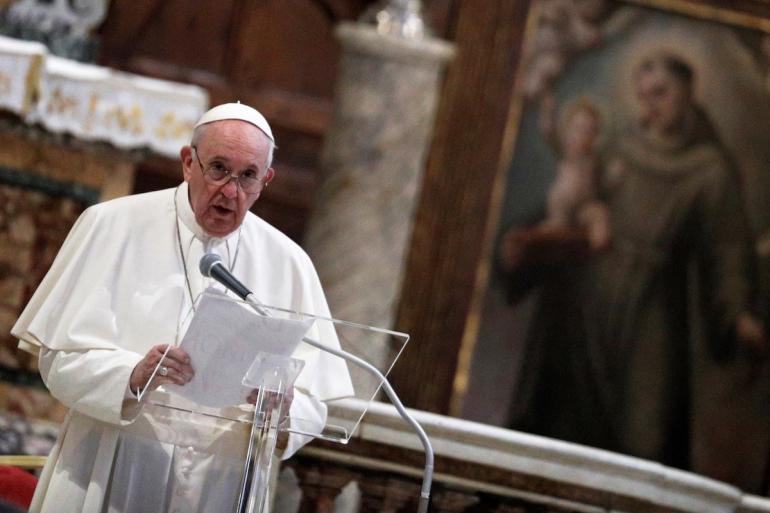 Pope Francis condemned what he described as the "mafia" around the world that are "exploiting the pandemic" and "enriching themselves through corruption."
The pontiff made the statement during his weekly address after praying the Angelus on March 21, from the Library of the Apostolic Palace in the Vatican.
The pope started his address by reminding the faithful of the observance of the "National Day of Remembrance and Commitment to Remembering the Victims of the Mafia".
Italy's Associazione Libera, a national anti-mafia organization, had been using the date to commemorate victims of mafia crimes since 1996.
"The mafia are present in various parts of the world and, exploiting the pandemic, they are enriching themselves through corruption," the pope said.
In December, the Paris-based Interpol police co-ordination issued a global alert warning that organized criminal networks were targeting COVID-19 vaccines.
In March, South African police seized hundreds of fake vaccines and arrested four suspects.- Newsletter -Subscribe to Spotlight, our daily newsletter. 
Italian police say crime clans are using the pandemic to buy favor with poor families facing financial ruin, offering loans and food.
Mob loan sharks demanding exorbitant interest rates are bailing out businesses hit by the pandemic, police say.
"These structures of sin, mafia structures, contrary to Christ's Gospel, exchange faith with idolatry," said the pope.
In Italy, many members of organized crime see themselves as part of a religious, cult-like group, invoking the help of saints and using religious figurines or statues in initiation rites. - LiCAS.news