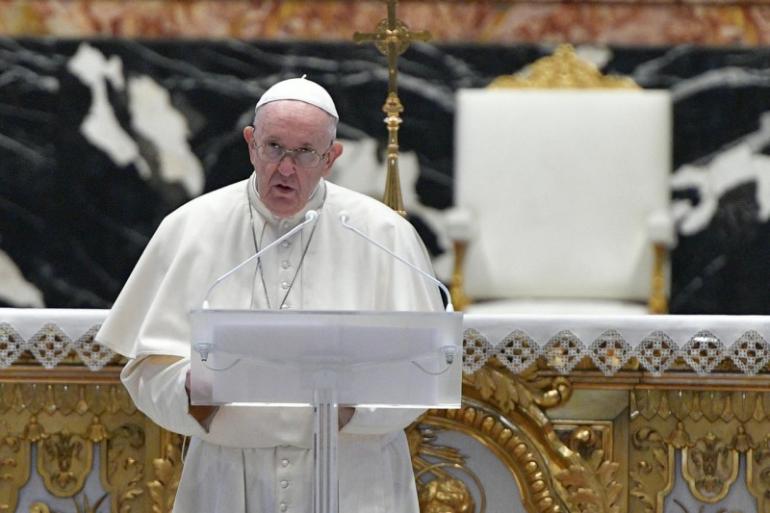 Pope Francis addressed the Filipino people in a video message on Easter Sunday, telling them to keep on working, rebuilding, and helping one another despite the challenges they face.
In a seven-minute video, the pontiff recalled the difficulties Filipinos had to face in recent years, citing the earthquakes, typhoons, volcanic eruptions, and the pandemic that hit the Philippines.
He noted that despite the pain and devastation, the Filipino people "continued to carry the cross and to keep walking."
"You suffered greatly, but you also got up, time and time again," said Pope Francis in a message for the 500th anniversary of the arrival of Christianity in the country this year.
Christianity was first brought to the Philippine islands by Spanish missionaries who arrived in waves beginning in the early 16th century when Portuguese explorer Ferdinand Magellan reached the island in 1521.
In his message, he highlighted three "mysteries of faith" — Nazareth, the Cross and Pentecost — that he described as "part of the deepest Christian roots of the Filipino people."
He said that the tender love of the Holy Child, "which is a symbol of the arrival of Christianity in your archipelago, reminds us of the hidden life of the Holy Family in Nazareth."
"By opening the doors of your families to the Holy Child, you too will be able to transmit to your children the faith that you received from your parents," said the pope, referring to the strong devotion of the Filipino people to the Child Jesus or the Santo Niño.
The pope then thanked the Filipino faithful for their "witness of strength and trust in God, who never abandons you."
The pope also reminded Filipinos that the celebration of the Pentecost "is a point of arrival, but also a new beginning."
He cited the Mother of Jesus, the Blessed Virgin Mary, who was always at his side at the most difficult moment of his life, "standing at the foot of his Cross."
Pope Francis pointed out that Mary "never leaves our side" and asked for her intercession "for a new Pentecost of the Church in the Philippines."
He reminded the Filipino people of the words of Jesus — "Without cost you received; without cost you are to give" — during the celebration of the jubilee year of Christianity in the country.
The pope said that these words "are an invitation to thank God for all those who handed on the faith to you."
"Renew your enthusiasm for evangelization. Reach out to others and bring them the hope and joy of the Gospel," said the pope
Recalling his visit to the Philippines, Pope Francis highlighted his meeting with about seven million people who gathered to attend the celebration of the Holy Eucharist in Manila's Luneta Park.
"You are generous and you know how to celebrate the feast of faith. Never lose those qualities, even in the midst of difficulties," the pontiff told the Filipino people.
He called on Filipinos not to "be afraid" because the are "not alone in this mission … two great saints of your land accompany you: Saint Pedro Calungsod and Saint Lorenzo Ruiz."
"Keep moving forward; the pope is always at your side," he said. - Joe Torres/LiCAS.news