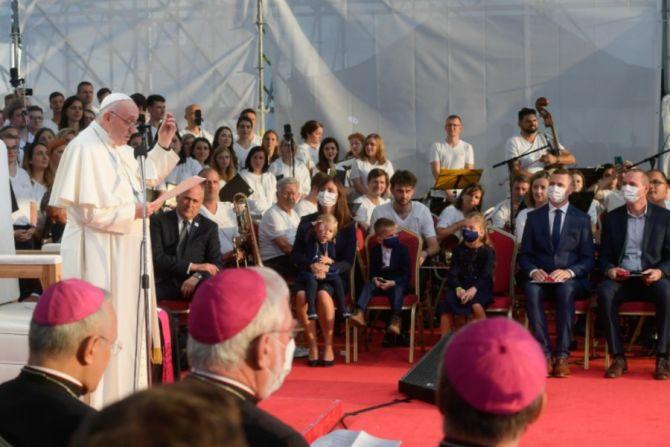 Pope Francis told young Slovakian Catholics on Tuesday that Confession is an "infallible remedy" for the times when they are feeling down.
Speaking at Lokomotiva Stadium in Košice, eastern Slovakia, on Sept. 14, the pope advised young people who felt downcast to receive the sacrament.
Responding to a question from Petra Filová, a 29-year-old student, about how to overcome obstacles to encountering God's mercy, he said: "Today, there are so many disruptive forces, so many people ready to blame everyone and everything, spreaders of negativity, professional complainers."
"Pay no attention to them, no, for pessimism and complaining are not Christian. The Lord detests glumness and victimhood. We were not made to be downcast, but to look up to heaven, to others, to society."
"But when we feel downcast -- because everyone in life is a little down at certain times, we all know this experience -- what are we to do? There is one infallible remedy that can put us back on our feet. Petra, it is what you said: Confession."
The pope encouraged youngsters to see that God's mercy, not their sins, is what lies at the heart of Confession.
He said: "I will give you a little piece of advice: after each Confession, sit still for a few moments in order to remember the forgiveness you received. Hold on to that peace in your heart, that inner freedom you are feeling; not your sins, which no longer exist, but the forgiveness that God has granted you, the caress of God the Father. Just hold on to that; don't let it fade."
"And the next time you go to Confession, remember: I am going to receive again the embrace that did me so much good. I don't go to a judge to settle accounts, I go to Jesus who loves me and heals me."
He added: "In Confession, let us give God first place. If God is the protagonist, everything becomes beautiful and Confession becomes the sacrament of joy. Yes, joy; not fear and judgment but joy."
As the pope spoke, he was frequently interrupted by applause. He paused several times to ask the crowd questions, pretending at times not to hear their answers so they would answer more loudly. - Catholic News Agency