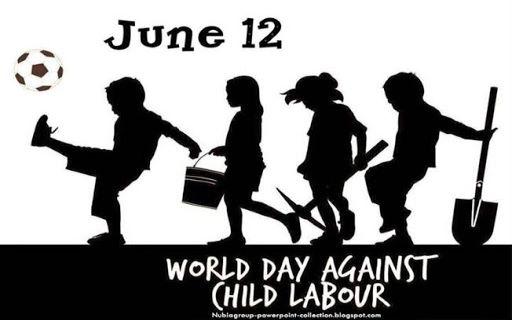 The UN's International Labour Organization (ILO) instituted the annual observance in 2002 to focus attention on the global extent of child labour and the action and efforts needed to eliminate it.
Did you know?
152 million children between the ages of 5-17 were in child labour, almost half them, 73 million, in hazardous child labour.

Almost half (48%) of the victims of child labour were aged 5-11; 28% were 12-14 years old; and 24% were 15-17 years old.

Child labour is concentrated primarily in agriculture (71%) - this includes fishing, forestry, livestock herding and aquaculture - 17% in services; and 12% in the industrial sector, including mining.
Prevalence of child labour
Children around the world are routinely engaged in paid and unpaid forms of work that are not harmful to them. However, they are classified as child labourers when they are either too young to work, or are involved in hazardous activities that may compromise their physical, mental, social or educational development. In the least developed countries, slightly more than one in four children (ages 5 to 17) are engaged in labour that is considered detrimental to their health and development.
Africa ranks highest among regions both in the percentage of children in child labour — one-fifth — and the absolute number of children in child labour — 72 million. Asia and the Pacific ranks second highest in both these measures — 7% of all children and 62 million in absolute terms are in child labour in this region.
The Africa and the Asia and the Pacific regions together account for almost nine out of every ten children in child labour worldwide. The remaining child labour population is divided among the Americas (11 million), Europe and Central Asia (6 million), and the Arab States (1 million). In terms of incidence, 5% of children are in child labour in the Americas, 4% in Europe and Central Asia, and 3% in the Arab States.
While the percentage of children in child labour is highest in low-income countries, their numbers are actually greater in middle-income countries. 9% all children in lower-middle-income countries, and 7% of all children in upper-middle-income countries, are in child labour. Statistics on the absolute number of children in child labour in each national income grouping indicate that 84 million children in child labour, accounting for 56% of all those in child labour, actually live in middle-income countries, and an additional 2 million live in high-income countries.
COVID-19: Protect children from child labour, now more than ever
World Day Against Child Labour 2020 focuses on the impact of crisis on child labour. The COVID-19 health pandemic and the resulting economic and labour market shock are having a huge impact on people's lives and livelihoods. Unfortunately, children are often the first to suffer. The crisis can push millions of vulnerable children into child labour. Already, there are an estimated 152 million children in child labour, 72 million of which are in hazardous work. These children are now at even greater risk of facing circumstances that are even more difficult and working longer hours.
Pope warns those who force children into slavery
Pope Francis has repeatedly called on the international community to eradicate the scourge of child labour.  During his general audience on June 11, 2014, he held up an ILO's red booklet like a referee's red card with the word's "All together against child labour," written on it. 
On June 12, 2013, World Day Against Child Labour,  the Pope during his general audience denounced  the exploitation of children in domestic work as "a true slavery".
"All children," he said, "must be able to play, study, pray and grow in their own families, and this in a harmonious context of love and serenity."  
The Pope said that it is a scourge that many people instead of letting children play make slaves of them. "A serene childhood allows children to look forward with confidence to life and the future." "Woe to those who stifle their joyful impulse of hope!" the Pope warned. 
Source: United Nation; Vatican News