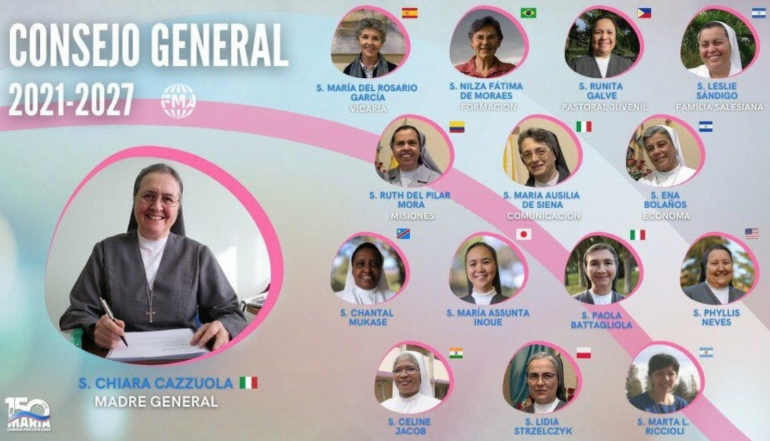 The General Chapter of the Daughters of Mary Help of Christians, popularly known as Salesian Sisters of Don Bosco, currently underway in Rome, has elected a new General Council to lead the Congregation with Sr. Chiara Cazzuola as Superior General.
Three Asians, Sr. Runita Galve Borja from the Philippines, Sr. Maria Assunta Sumiko Inoue from Japan, and Sr. Celine Jacob from India, have also been elected to the 15-member Council, which will lead the Congregation for the next six years. Sr Borja is Councillor for Youth Pastoral, while Sr Sumiko Inoue and Celine Jacob are Visiting Councillors.
The Salesian Sisters, formally known as Figlie di Maria Ausiliatrice (FMA) or Daughters of Mary Help of Christians, are among the most prominent religious congregations of women in the Church. The Order was founded in 1872 in Italy by St. John Bosco and St. Maria Domenica Mazzarello.
The 24th General Chapter, which began in mid-September, is due to end on 24 October. The Chapter brought together 172 participants from 97 countries. The Congregation has 11,535 sisters working for young people and women through a network of 1400 communities serving nearly two million young people and women. They run 10,632 educational centres with the collaboration of thousands of laypeople.
In Asia-Oceania, the Congregation works in 26 countries with a strength of 3000 Sisters and 375 educational institutions. There are some 200 Novices in the region who are currently under formation. The region was represented in the General Chapter by 37 delegates, including 14 from India and two from Oceania.
Speaking from Rome, Sr Celine D'Cunha, a delegate from India, said the global meeting reflects on the role and mission of religious communities living a life of consecration and mission in the contemporary world. The Chapter has been giving out a message of hope amidst the pandemic.
Sr. Chiara Cazzuola, the Superior General who moderated the Chapter, said the FMAs are called to live their prophetic and missionary vocation in the universal Church and network with the large Salesian Family, other religious congregations, ecclesial and civil organizations at the international, national, and local levels.
Speaking on the relevance of the chapter theme, Sr D'Cunha, who represents Northeast India, said the Salesian Sisters are preparing to celebrate the centenary of their presence in the region in 2022.  "It is a time to be reborn, to discern, to renew oneself, to dream, to revitalize, to become Don Bosco and Mother Mazzarello for millions of children and young people who ask us for a significant presence and fruitful accompaniment," she said.
India has one of the largest presences, with 1,500 Salesian Sisters spread over seven provinces and  230 communities. The Congregation currently has 107 novices in India, showing signs of hope for continuing the charism and mission of the Congregation, Sr D'Cunha noted.