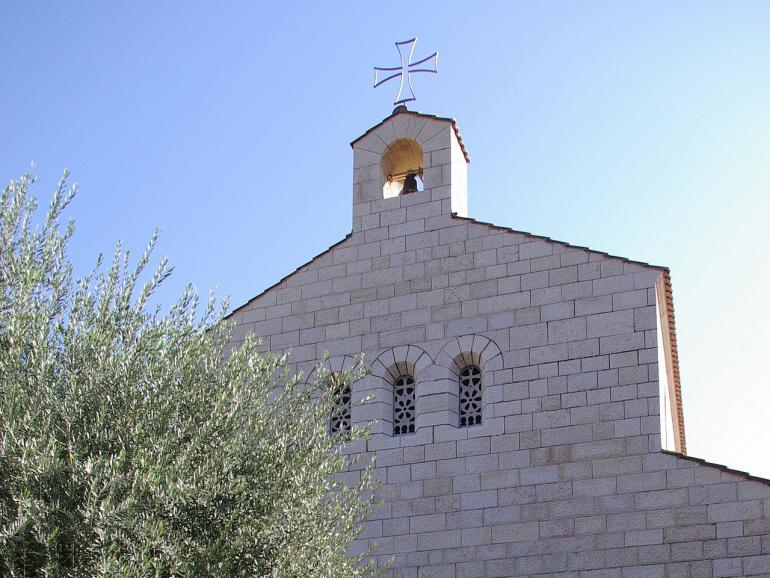 Vandals have stolen a cross from the Catholic church in the Holy Land built on the site where tradition holds that Jesus performed the miracle of multiplying five loaves and two fishes to feed 5,000 people.
Israeli police are investigating the theft of a six inch iron cross from the Church of the Multiplication of Loaves and Fishes in Tabgha, AFP reported Aug. 21.
The cross had been embedded in an outdoor altar made of volcanic basalt rock that was used for Catholic Masses offered along the shores of the Sea of Galilee where the church is located.
Georg Röwekamp, a representative of the German Association of the Holy Land (DVHL) which owns the church property, called the theft an "anti-Christian" act.
"We found in the morning of August 19 that the wrought-iron altar cross had been broken off by force and disappeared," Röwekamp told CNA on Aug. 23.
"As this requires strong physical force, it must have been a deliberate act," he said.
Röwekamp suspects that the vandals arrived on the property by boat as the site where the theft took place was not open to the public at the time.
"We very much regret this incident, which worries us - not at least after the arson attack in 2015, when persons also entered our premises," he said.
This is not the first act of vandalism against the Church of the Multiplication of Loaves and Fishes in recent years.
An arsonist torched the church property in June 2015 badly damaging the church entrance, adjoining Benedictine monastery, and pilgrim office. Hebrew-language graffiti left at the site read "all idols will be smashed." - Catholic News Agency