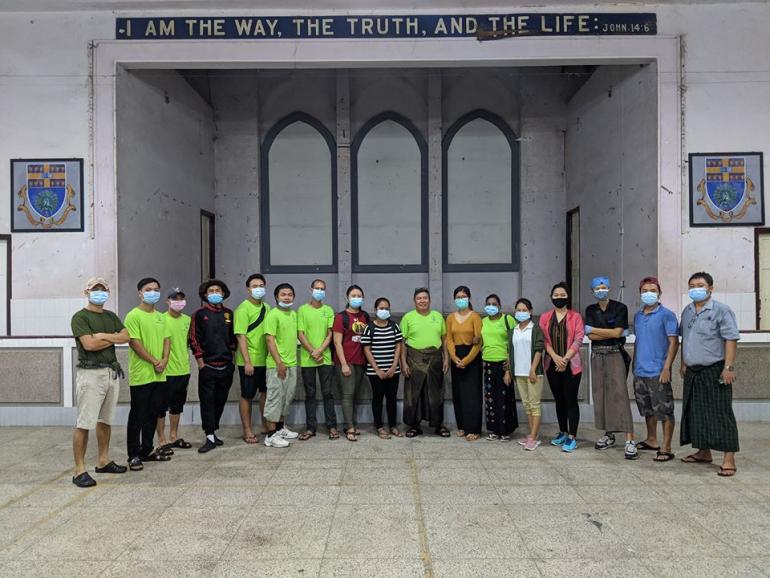 A group of young Christians have volunteered to care for COVID-19 patients in the Central Institute of Civil Service in Phaung Gyi, Hlegu Township, Yangon Division, some 50 miles from Yangon.
The youth, who left Yangon on May 19 represented the Myanmar Council of Churches and the Catholic Bishops' Conference Myanmar.
The first group of volunteers will spend one month in the quarantine center. 
Another group of young people have been deployed on May 23 to a hospital in South Oakalapa Township in Yangon. 
The second group of the volunteers is composed of eight Catholics and two from the Myanmar Council of Churches.
The facilities of the Central Institute of Civil Service have been converted into a quarantine center and care center for COVID-19 patients.
The institute shars the responsibilities of the care center in Wai-Bar, Ki, Yangon. 
After treatment in Wai-Bar-Ki, patients who are found negative of the virus and persons suspected to be infected are now being looked after in Phaun Gyi Village.
About 200 people in the civil service and the military are ready to serve the patients. A total of 2,000 beds are ready for the care of patients.
As of May 23, a total of 201 persons have been reported infected by the disease. Out of these, 120 have reportedly recovered while six died. - Fr. Hubert Saw