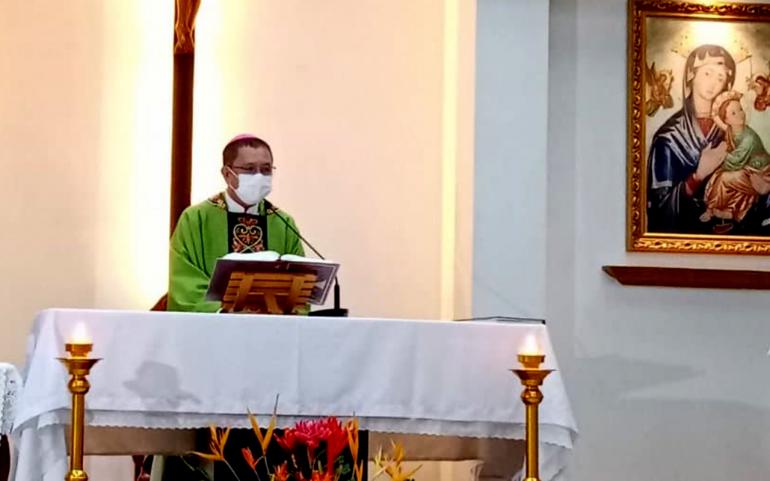 A Catholic bishop in the Philippines has urged the people of Myanmar not to lose hope in the midst of the political crisis that currently besets their country.
Bishop Roberto Mallari of San Jose in the northern Philippines said the people of Myanmar have to remain hopeful and courageous despite the challenges.
"We put into the hands of the Father our lives … the people of Myanmar as they pass through this most challenging moment of their history as a country," said the chairman of the Office for Social Communication of the Federation of Asian Bishops' Conferences.
Bishop Mallari led the celebration of a "solidarity Mass" for Myanmar at the Radio Veritas Asia headquarters in Quezon City on Feb. 16.
In his homily, the prelate said everyone should "always put our trust and hope in the Lord especially during this time of pandemic and crises."
"How easy it is to forget what God has already done for us and to doubt what he promises to do for us in the future as well," said Bishop Mallari.
He reminded the faithful to always fill their hearts with Jesus' love because "perfect love casts out fear."
Addressing the people of Myanmar, the prelate said they should not allow themselves to be influenced by "evil-minded men who can easily corrupt us the moment we feel hopeless or helpless."
Bishop Mallari also cited the message of Cardinal Charles Maung Bo of Yangon who earlier urged the people of Myanmar not to resort to violence and to make way for dialogue to resolve the crisis. - RVA News / LiCAS.news