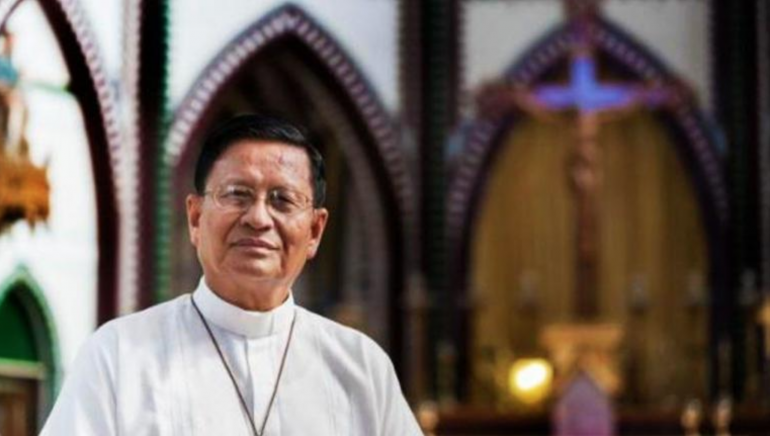 FABC President and Archbishop of Yangon, Cardinal Charles Bo sdb, will address the 52nd International Eucharistic Congress which got underway in Budapest, Hungary, September 5.
Cardinal Bo will address the Eucharistic Congress on September 8.
Cardinal Bo, who is also a member of the Vatican's Department of Communication, will lead the prayers and conduct a catechetical session at the Eucharistic Congress.  He is among the five Cardinals from across the world to address the Congress. The others are Brazilian Cardinal Joao Tempesta, Canadian Cardinal Gérald Lacroix, Iraqi Cardinal Louis Raphaël Sako, Nigerian Cardinal John Onaiyekan and Czech Cardinal Dominik Duka.
The 2021 International Eucharistic Congress is the 52nd edition of the international weeklong event held regularly since 1881.  The first Eucharistic Congress was held in Lillie in France 140 years ago.
In Asia the event was held in Mumbai, India and Cebu, Philippines. The 38th Eucharistic Congress in Mumbai in 1964 witnessed the visit of Pope Paul VI to the country. In 2016, the Congress was held in Cebu City, the Philippines.
The International Eucharistic Congress is held every four years with a view to foster Eucharistic devotion and to celebrate the presence of Christ in the Holy Sacrifice of the Mass.
The Budapest Congress, is being celebrated following Covid 19 protocols.  The Congress, which has an unbroken history for the past 140 years, was postponed by a year due to the Covid 19 pandemic. The event has participants from all over the world.
The Congress opened on Sunday, September 5,  at the Heroes' Square in Budapest with a performance by a choir of 1,000 singers and a Mass presided over by Cardinal Angelo Bagnasco. The Mass was attended by students from Hungary's Catholic schools, some of who received the First Communion.
The Congress is featuring an exhibition on the persecution of Christians around the world. The exhibition is opened in cooperation with the Hungarian National Museum and Hungary Helps, the country's humanitarian assistance program for persecuted Christians.
On Saturday, Sept. 11, Cardinal Péter Erdő of Esztergom-Budapest will offer Mass in Kossuth Square, home to the spectacular Hungarian Parliament Building, followed by a candlelight procession to Heroes' Square. Speaking of the Congress, the Cardinal hoped that the Congress would be "a great sign of hope for the Catholics all around the world" following the pandemic.
The event will culminate on Sept. 12 with a closing Mass offered by Pope Francis in Heroes' Square at 11:30 a.m local time. Pope Francis will be the first pope to take part in an International Eucharistic Congress since the year 2000. - George Plathottam, sdb