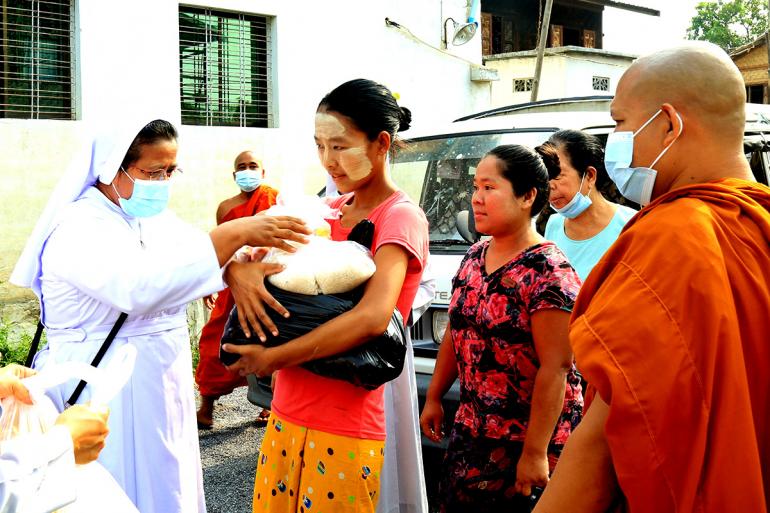 Bishop Isaac Da Nu of the Diocese of Taung Ngu in Myanmar warned this week the clergy, the religious, and the faithful in his diocese against the new surge in COVID-19 cases in the country.
"The third wave of COVID-19 that we are currently facing is very severe and it has already claimed many lives," said the prelate.
He urged priests, nuns, and the faithful in his diocese to make sure that they follow the instructions earlier issued by the Health Commission of the country's Catholic bishops' conference.
Bishop Da Nu ordered the temporary suspension of the public celebration of Masses, festivals and other ceremonies in churches until the end of August to avoid the spread of the disease.
He also encouraged everyone to help those who are in difficult situations, especially when it comes to health, food, shelter, and clothing.
Masses will be celebrated and broadcast live on various media platforms of Radio Veritas Asia in Pathein and Yangon.
Myanmar on Wednesday, July 7, announced stay-at-home measures in parts of Yangon as the country reported its highest daily coronavirus caseload in months.
From Thursday, a ban on more than one person leaving home for non-medical reasons will apply to 10 Yangon townships, which together are home to around 1.5 million people.
Those travelling to government jobs are exempt, according to the announcement from the health and sports ministry of the State Administration Council - as the military junta calls itself.
Authorities reported almost 4,000 new cases on Wednesday - compared with fewer than 50 per day in early May. - Raymond Kyaw Aung / RVA News