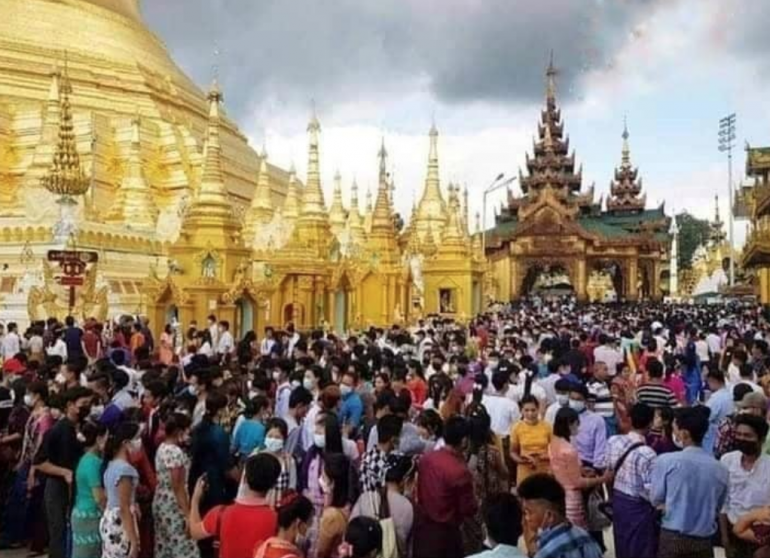 Thadingyut is a popular festival for Buddhists in Myanmar, even for Catholics whose relatives are Buddhists. Catholics visit their Buddhist family relations and friends during the festival.
But this year, the overall public feeling is dampened due to pandemic restrictions and military coup. People living in conflict areas cannot participate in the joyous festival bringing families together.
Thadingyut is one festival that unites all people across cultures, religious affiliations and ethnicities. People participate in the festivals of other communities, irrespective of man-made differences. There is an element of mutual participation like Buddhists also join in Christian celebrations.
Even with a sensitive political situation, people post pictures of visiting the Pagodas on social media. The Buddhists also visit the Pagodas at night to offer candlelight prayer as a traditional practice.
But people testify, "this year is not like before."
"Years ago, before the Covid-19 pandemic, it was a delightful tradition, but now it seems very lifeless," said Naw Htike Htike Htun, a Catholic lady from Yangon.
Htun, whose relatives are Buddhists, says that "there are people who cannot be joyful anymore."
Thadingyut festival is a family reunion celebration when family members return to pay homage to their parents.
During  Thadingyut festival many young people who are away from home for economic reasons return home for a visit and pay homage to their parents.
It's different this year due to covid-19 and military conflict.
"For some children, they do not have their parents who will receive their homage due to Covid-19 deaths. There are parents who no longer have their children, who used to offer gifts and pay homage to them at the time of Thadingyut  because they were killed due to the military conflict in the country," said Htun.
Another Catholic lady living in Yangon, Nant Khaing Khaing, said, "I am not happy this Thadingyut festival."
"I feel so sad for those who are separated from their family," says Nant Khaing. "I want Myanmar to be a peaceful country as soon as possible."
Pwin Zin, a Buddhist girl in Yangon, said, "I do not feel Thadingyut this year not due to Covid-19 but political conflicts in the country."
"With Covid-19, we can, at least, stay at home and enjoy family reunion during this Thadingyut time," Zin says.
The Junta's Security Forces killed many young Buddhist people due to their protest against the military coup.  
Even with political turmoil, people extend greetings with a hope for peace, joy and prosperity.