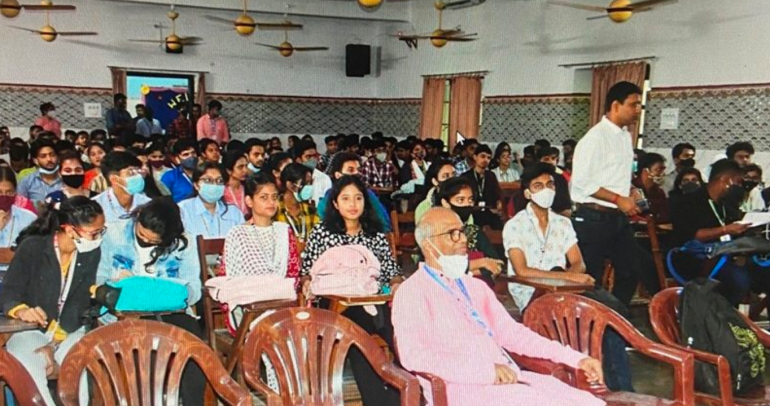 Swami Sachidananda Bharathi, a peace activist, has urged students to work for an India free of hunger, caste discrimination and corruption by overcoming the evil of selfishness and greed.
One should overcome the "evil of selfishness, greed and pride" with love and sharing, caring and giving, focus and progress, trust and entrust, grow and help grow, risk and rise and report and response, said the former Indian Air Force officer who has become a seeker of truth and promoter of peace.
These five principles will help form enlightened leaders who will lead a fruitful life, the Swami told the students of the Jesuit-managed St. Xavier's College of Management and Technology in Patna, Bihar in India
He was addressing a function to induct new members of "Youth for Free India," a movement he started to encourage students to take up social issues.
"Fruitful people always give something to society," he said.
Addressing the new members of the Youth for Free India, the Acharya said the movement was launched as a dream to see a hunger-free, caste-free and corruption-free India. "I am happy that YFI has been seriously working towards this mission," he said, adding that its volunteers were doing a wonderful work serving the needy people across Patna.
The Swami is known as Air Force Baba because of his Air Force background. An encounter with death in an air accident in 1982 was the 'turning point' in his life. He was initiated into spiritual life in 1984.
Asking the students to overcome the "evil of selfishness, greed and pride," the Swami asked them to follow the principle of tyagarchana or conscious and willing self-sacrifice.
Speaking on the occasion, the college's acting rector, Jesuit Father Martin Poras congratulated the youth movement for "reaching out to the neediest people during the Covid-19 pandemic."
College principal Jesuit father T Nishaant said the movement had been regularly providing food to the poor in many areas in Patna. He also urged the youth to work for a society free of caste, corruption and communalism.