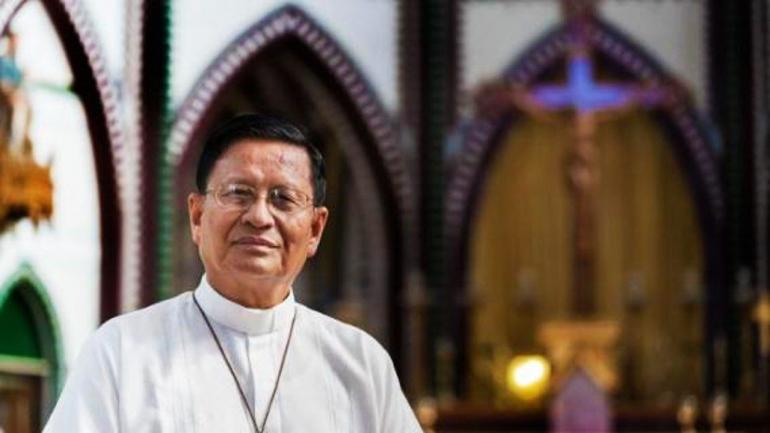 Cardinal Charles Maung Bo of Yangon appealed for peace and dialogue as Myanmar's warring ethnic armed groups hold meetings later this month.
"There is no other path than dialogue," Cardinal Bo in his statement for the 4th Session of the Union Peace Conference on August 19.
The Union Peace Conference is a tripartite conference involving the government of Myanmar, ethnic armed organizations, and the country's political parties. 
The first Panglong Conference was held in the Panglong region of British Burma in 1947, and was negotiated between Aung San and ethnic leaders.
In 2016, the Union Peace Conference - 21st Century Panglong was held from Aug. 31 to Sept. 4 in Naypyidaw, Myanmar, and was attended by UN Secretary General Ban Ki-moon.
The government planned to hold similar conferences every year until a permanent ceasefire and peace agreement was drafted.
Cardinal Bo reminded participants that the gathering should honor the memory of Aung San and the martyrs "who dreamed of a new, united nation after the wreckage of invasion and colonialism."
"Their vision was to build on the fertile, life giving differences among us, and so shape a proud, united people," said Cardinal Bo.
"We honor their sacrifice by humbly committing to union as a nation," he added.
He noted that the assassination 73 years ago of Aung San and his companions "marked the beginnings of decades of divisions, conflict and darkness for our people."
"That act of treachery began a merciless epoch with brothers and sisters pitted against one another needlessly," said the cardinal. "We weep for our loss as a nation," he added.
The Catholic Church leader, however, expressed optimism that the people of Myanmar "can reverse this history of betrayal."
He said the Covid-19 pandemic "exposes the folly of continued conflict anywhere" as the virus "will only be overcome through unity."
Cardinal Bo has earlier echoed calls of Pope Francis and the United Nations secretary general to end all conflicts "so that a greater, common enemy is defeated."
"Through unity we will rebuild our nation after the socio-economic, environmental and medical wreckage of the global pandemic," said the cardinal.
"We're all damaged by war. No one wins. The only way is peace. With peace, humanity wins," he said.
"One military, one army, is sufficient for any nation; a military that works for justice and peace; a military which is inclusive of all ethnic groups, without any discrimination," said Cardinal Bo.
The Catholic Church leader said the military "gradually must come under the authority of a democratically accountable elected president."
"A State is entitled to arm itself, and to use its armed forces for its defense, but democracy's greatest weapons are the influential tools of reconciliation and justice," said the cardinal.
He said dialogue "flows from open hearts and minds, from that passion for truth without which society disintegrates." 
He reminded the meeting that military solutions to problems are "counterproductive" and should be "abandoned in favor of cooperation, civility and sagacity."
Last year, the peace process and the fourth Panglong were deferred due to disagreements that caused the Karen National Union and the Restoration Council of Shan State to suspend their participation.
The fourth Panglong aims to find a sustainable solution to the decades-long conflicts between the various ethnic armed groups and the government of Myanmar. - RVA News