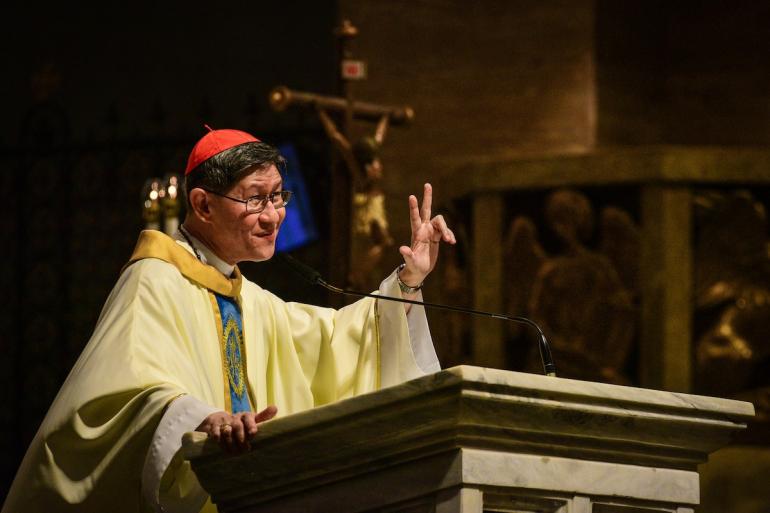 Cardinal Luis Antonio Tagle, prefect of the Vatican's Congregation for the Evangelization of Peoples, has recovered from the new coronavirus disease.
"Cardinal Tagle's negative result for the swab test is indeed a great joy for the whole Church," read a message from Father Gregory Gaston, Pontificio Collegio Filippino in Rome.
"God wants him to continue serving in the Vatican's office for the Missions, to bring God's Good News of love, joy, peace, justice forgiveness and reconciliation — all of which the world needs in a special way these days," read the message received by LiCAS.news on Sept. 23.
The former archbishop of Manila has been staying at the Pontificio Collegio Filippino since his arrival in Rome in February for his post in the Roman Curia.
The 63-year-old cardinal tested positive for COVID-19 on Sept. 10 upon his arrival in Manila for a brief visit.
He earlier came from Turin, Italy, where he attended the episcopal ordination of a new apostolic nuncio.
Cardinal Tagle did not show any symptoms since he got infected of the disease while undergoing 13 days of strict isolation in the Philippines.
 
Aside from being prefect of the Vatican's Congregation for the Evangelization of Peoples, Cardinal Tagle is also president of Caritas Internationalis, the federation of Catholic charities worldwide.
In May, Pope Francis promoted Cardinal Tagle, former archbishop of Manila, to the rank of cardinal bishop, the highest title of a cardinal in the Catholic Church.
A Vatican announcement on May 1 said the pope "decided to co-opt in the Order of Bishops" Cardinal Tagle, awarding him the title of a "suburbicarian church."
A "suburbicarian church" is a church located in the vicinity of Rome with a cardinal bishop as titular prelate.
Cardinal Tagle joined the ranks of 13 other cardinal bishops — 10 of them are from the Latin Church and three cardinal patriarchs from the Oriental Rites.
The Filipino cardinal left the Archdiocese of Manila on Feb. 9 to assume his post at the Vatican as Prefect of the Congregation for the Evangelization of Peoples, also known as Propaganda Fide.
The assignment is an important position in the Vatican as it takes care of the mission in territories mostly in Asia and Africa.
The congregation was established nearly 400 years ago in 1622 by Pope Gregory XV with the task of ensuring the "transmission and dissemination of the faith throughout the whole world."
As head of the office, Cardinal Tagle oversees the work of most dioceses in Asia, Africa and Oceania, in which one third of the Catholic Church's 4,000 dioceses are found.
Cardinal Tagle is the first head of a dicastery in the curia who have contracted the virus.
In the Philippines, at least four bishops got infected with COVID-19, two of whom died: retired Bishop Manuel Sobreviñas of Imus and retired Archbishop Oscar Cruz of Lingayen-Dagupan.
Bishop Broderick Pabillo of Manila and retired Bishop Deogracias Iñiguez contracted the disease but have fully recovered. - LiCAS.news