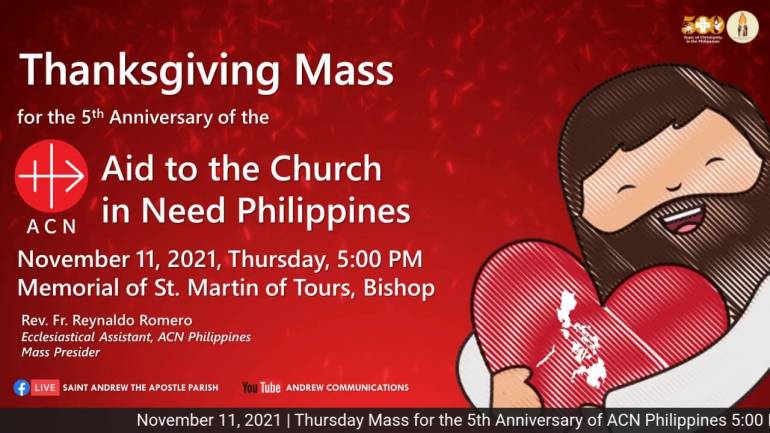 Aid to the Church in Need (ACN) Philippines celebrated its 5th anniversary on November 11
On the occasion, Msgr. Pedro Gerardo O. Santos, the executive director, celebrated the virtual thanksgiving Mass with Fr. Reynaldo V. Romero, ecclesiastical assistant, as concelebrant.
In his homily, Msgr. Santos said, "Please help us sustain our mission for the Church."
He also thanked all mission partners, benefactors, friends, and volunteers for their support for the suffering Church. 
"It can be quite challenging to send prayer and material help to communities and people who are remote to us, with faces we do not know. But the Philippines, truly, has and is continually being blessed and gifted to give," he added.
In another virtual Mass, Fr. Romero also thanked people for their support for brothers and sisters suffering for the faith. "Thank you for your generosity," he added.
ACN is a pontifical foundation and an international Catholic charity. It helps persecuted, oppressed, and suffering Christians worldwide.
It receives no public, government, or official Church funding and it is exclusively financed through the generosity of private donors and benefactors.
Yearly, ACN offers financial support to more than 6,000 projects in more than 140 countries.
ACN has 24 national fundraising offices in Europe, America, Australia, and Asia and has over 600,000 individual benefactors.
"Sometimes, we may feel that our contribution is only small and will not reach many people. But our work for the suffering Church proves otherwise. With your help, we can sustain our mission for our persecuted brothers and sisters. Please help us continue to raise funds and multiply them, just like how Jesus did for the great crowd," said Fr. Romero.