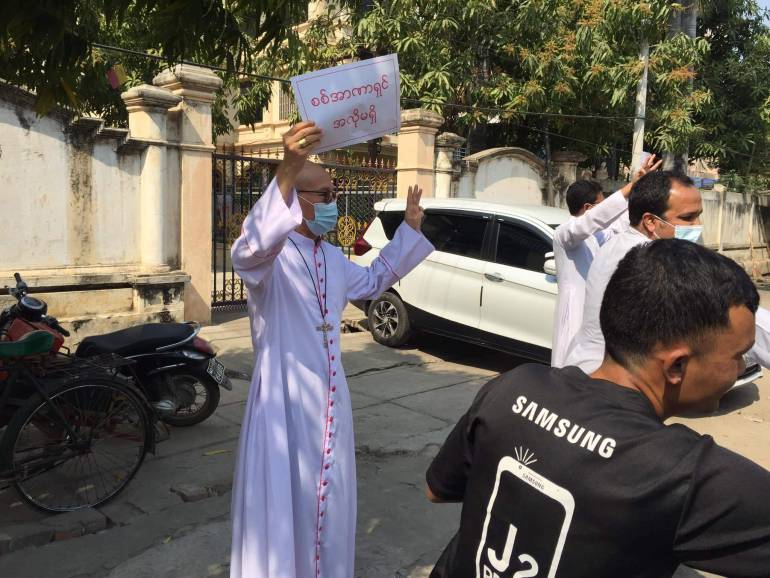 Catholics are urged to show solidarity with the suffering people in Myanmar. Myanmar has been in turmoil since the coup on February 1, 2021. The nation's economy is disrupted with protests against the military forces, battles in border regions amid a surge in coronavirus cases.
Archbishop Marco Tin Win of Mandalay issued an appeal letter to avoid Christmas parties, excessive festive decorations, and follow covid-19 protection protocol. The archbishop encouraged the Catholics to pray more and be charitable to the poor and needy.
Currently, Myanmar is suffering the consequences of the coup. Many people lost their jobs.  People joined civil disobedience movement (CDM) to oppose the current regime.  The prices of essential commodities like food and fuel has doubled.
The letter addressed to all the faithful, priests, religious, parish council members, and youth in the Mandalay diocese on November 26. The prelate urged the faithful to follow covid-19 protocols during Christmas masses.
The archbishop called on Christians to avoid playing Christmas songs loud speakers and not to have Christmas caroling. Catholic faithful are advised to refrain from having Christmas parties, that involve lavish food and drink.
There are people who do not have enough food for their survival. The military forces have burned down villages in Sagay division, Chin and Kaya states. Even in city like Thantalan, more than 346 houses and 22 churches including Catholic church were burned down.
The priests and religious congregation too are recommended to abstain from too much exhibitive Christmas decoration with lights on churches, parish compounds, convents and clergy houses. 
Many villagers, including children, old people and pregnant women are running away from the villages because they are afraid of the soldiers. Junta battling everywhere, there are boom blast even in the cities. People are like refugees in Internally Displaced Persons (IDP) camps. Young people are joining the arm forces, like People Defense Force (PDF).
The archbishop recommends not to upload on any social media family photos/videos which show too much feasting during this Christmas time.
Archbishop Marco Tin Win encouraged the faithful to celebrate the sacrament of reconciliation, participating in masses, pray more, and pray the rosary. The prelate invited the people to share with the poor and needs.
Some of the Christian Churches in Kayah and Chin states were burn and some hit by the artillery.
As of November 27, Assistance Association for Political Prisoners (AAPP) says 1295 people are now confirmed killed by the junta coup. The actual number of fatalities is likely much higher. A total of 7595 people are currently under detention.  While 341 people have been sentenced in person, of them 34 have been sentenced to death, including two minors.