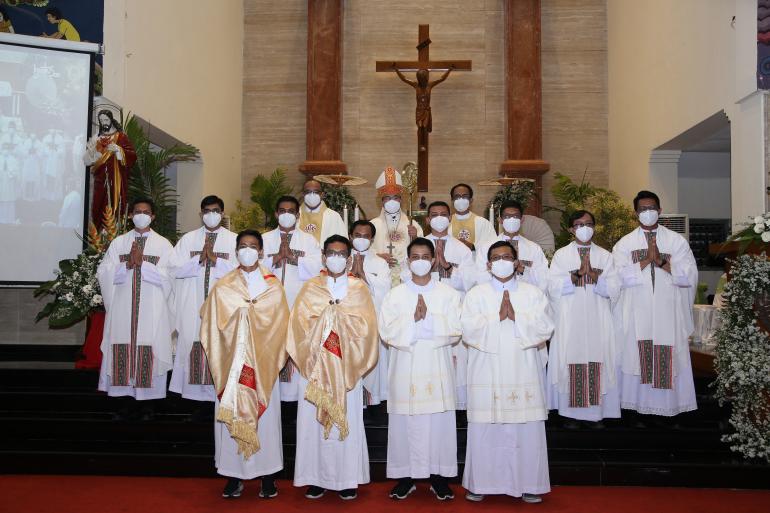 Eight new Jesuit priests were ordained in the Archdiocese of Semarang in Indonesia on August 19.
Archbishop Robertus Rubiyatmoko of Semarang ordained the new priests at the parish Church of St. Antonius in Kota Baru, Yogyakarta, Central Java in Indonesia.
"We are grateful to God for allowing us to accomplish the ordination this year, which was canceled last year due to the pandemic," said Father Benedictus Hari Juliawan, provincial superior of the Jesuits in Indonesia.
Attendance to the celebration on Thursday was limited to those who underwent self-quarantine and those who submitted negative results of COVID-19 testing.
The eight new priests come from different places in Java, Borneo, and Sumatra.
"Today, God gives us this abundant occasion with all limitations and simplicity," said Father Juliawan. "Let's support these eight deacons with our prayers in this Eucharistic celebration," he added.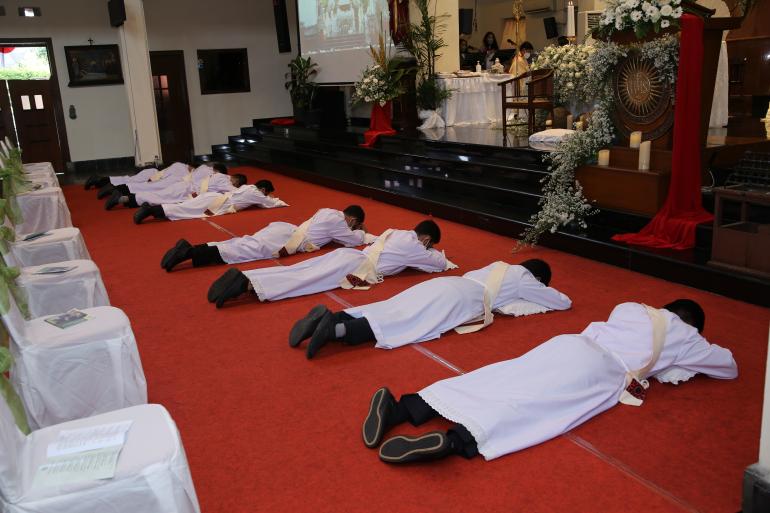 In his homily, Archbishop Rubiyatmoko said the ordination was "a great harvest for the Church."
The prelate, however, noted that the venue would have been full of "enthusiastic people" attending Mass, "but now only about 50 people."
"Yet, this situation does not reduce the wisdom and joy of this priestly consecration," he said.
The archbishop reminded the newly ordained priests of the "three things that are expected from a priest."
"Those three things are: to be a man of the church, a man of prayer, and man of evangelization," said newly ordained priest Hugo Bayu Hadibowo.
The archbishop also reminded the priests that everything can only go well with spiritual practice and by being in an intimate relationship with God.
"God is the one who is calling us. God will show us the best and right way," he said.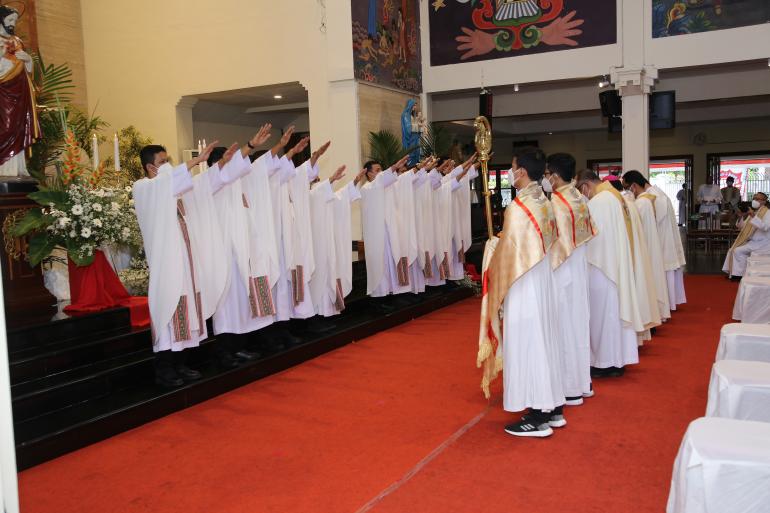 Archbishop Rubiyatmoko then urged everyone to support the new priests to become "the best priests who will be useful for the Church and society." the Archbishop ended his homily.
"We believe that being a priest and a Jesuit is our way of life. It is to live a meaningful life for self, for the Church, society, and all humanity," said newly ordained Father Martinus Dam Febrianto, SJ.
"We feel that God Himself called us and this is the best path for us," he said. "This is the purpose we were created for, for the salvation of souls and the glory of God in this world," he added.
Although Catholics are a minority in Indonesia, the country still lacks priests to serve the faithful. 
In Indonesia, the Society of Jesus is known primarily for its educational work and for parish and social services. - Emiliana Saptaningsih / RVA News