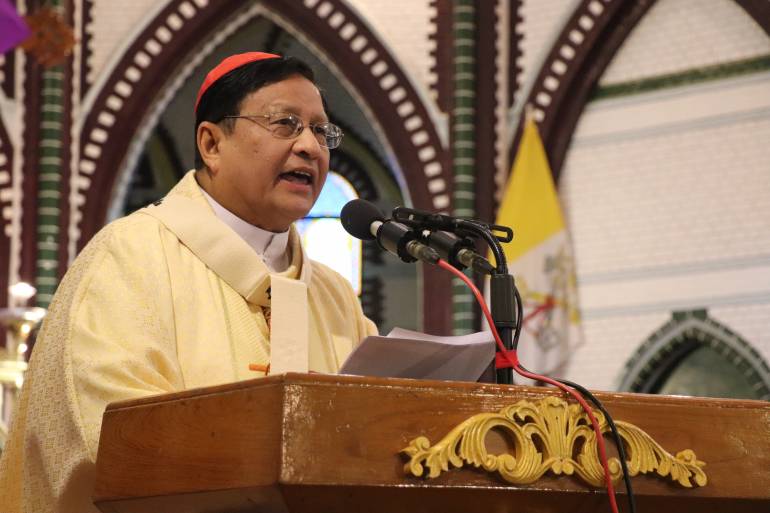 Jesus was a non-politician. My kingdom is not of this world (Jn 18:36). Politics concern the affairs of the state.
"You shall worship the Lord your God, and Him only you shall serve (Mt 4:8-10). Although Israel was under the rule of Romans, Jesus showed no interest in gaining political power or influencing the affairs of the state. 
Worship in a free state is yours and yours alone to choose. Faith is not imposed on by the state. 
In history, there have been changes in the constitution now and then even in democratic countries such as America, Britain, etc. There have been changes always regarding federalism or anti-federalism. But the teaching of the Lord is universal and eternal. "Heaven and earth will pass away, but my words will by no means pass away. (Mt 24:35)," says the Lord. 
To be free of politics means your identity is not tied to any political party or system of government, thus, being unbound. That is why we do not say anything about the coup because it is political.  
Jesus was a pacifist. "If my kingdom was of this world my servants would fight (Jn 18:36)."
For centuries from the past till this 21st century, there has been blood-shedding in the name of God. Today, we have seen the nations killing each other. Different parties say that God is on their sides and to kill in His Name glorifies God. 
"In a family, if the sons and daughters are killing each other, can the parents be proud of it?"  
The high priests led by Juda Iscariot arrest Jesus. The disciples got ready with their weapons to safeguard their master. Simon Peter took his sword and cut the ear of a servant of a high priest. The Lord asks him to keep the sword back saying that those who rely on the sword will perish by the sword. 
These show that Jesus was a pacifist and He believed in non-violence. So, pacifism is opposition to war or violence as a means of settling disputes especially the refusal to bear arms on moral or religious grounds. Pacifism in the face of violence is strength. 
Even in the garden of Gethsemane at the time of His arrest, Jesus chose to avoid physical confrontation. 
If we believe in eternity, it is to ponder over the saying that your time on earth is short. Compared to eternity the span of your life on earth is but the blink of an eye. Yet your soul is eternal. 
The ancient martyrs were pacifists and were not willing to return the torture with arms forces. Instead, they laid down their lives for their faith. If there was no more such witness, the Roman Empire might not know who Jesus is. 
Pope Francis deserves our admiration, prayers, and support for his tireless efforts to promote peace and goodwill among nations, peoples, and religions and for constantly reminding us that everything and everybody in the universe is interconnected.
His intense advocacy for the health of our planet, his concern for the poor, and his courageous stance to protect the rights of migrants and refugees is unparalleled on the world stage. And we can only applaud him for his disarming witness as a man of sincere dialogue and as a global moral leader who refuses to divide the world into black and white, winners and losers, villains and heroes, the evil and the righteous. Without a doubt, Pope Francis has been the most evangelical, non-sectarian, and "Catholic" (as in universal and all-embracing) Pope the world has seen in many centuries. 
The pope cannot work miracles. Pope Francis has been a remarkable gift to the Catholic Church and all of humanity. But he cannot solve the entire world's problems, stop all of its wars and heal all of its ills. And no one should expect him to. 
We are blessed to have a Pope who, in many astonishing ways, is extremely Christ-like. But he is not Christ. And he simply cannot work miracles. Those who are pushing hard for a papal visit to Ukraine think he can.
If Pope Francis were to go to the war-ravaged country, he would not be able to resolve anything short of something miraculous happening. The pope and not just this Pope- simply lacks the type of quasi-superhuman power and influence that many of his adulators believe he has. They need to admit that there is probably nothing more he can do in this situation except continue to speak out and pray for peace.  
(This is the excerpts from the homily of Cardinal Charles Bo, Archbishop of Yangon, Myanmar at St Mary's Cathedral on Holy Thursday, April 14, 2022. He is also the President of the Federation of Asian Bishops Conferences) 
---
Radio Veritas Asia (RVA), a media platform of the Catholic Church, aims to share Christ. RVA started in 1969 as a continental Catholic radio station to serve Asian countries in their respective local language, thus earning the tag "the Voice of Asian Christianity."  Responding to the emerging context, RVA embraced media platforms to connect with the global Asian audience via its 21 language websites and various social media platforms.