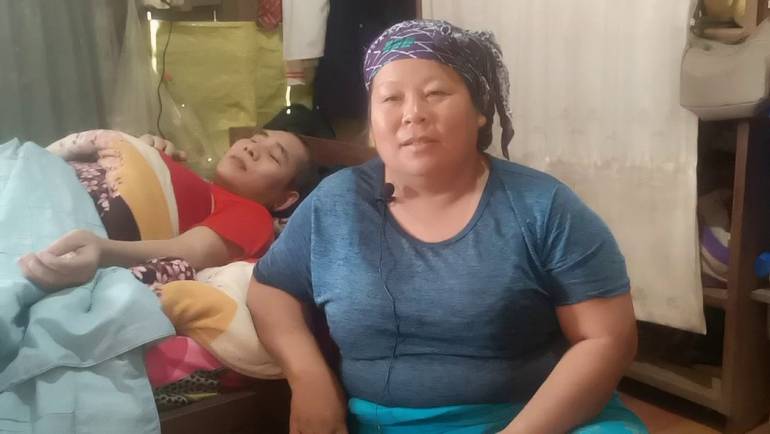 Lhingkhoneng Kipgen was born in Keithelmanbi village in the northeast Indian state of Manipur on January 8, 1979. 
She did her elementary education in Sainik School and Brighter School in a village. She was baptized as a Protestant on October 5, 1989.  
She had youthful life in her early years until she got sick and needed medical attention for three years. During those days, she ruminated on her life and came to sense that as a God's child.
"God does not allow us to persist in evil or fall into the company with evil minds," Lhingkhoneng, a mother of two, told RVA News.
After she recovered, she continued her Grade 8 to 10. While she was in Grade 10, her family faced a financial crisis and she could not continue it further.
"As the situation was hard for all, I had to work as a Sunday school teacher at our church," she recalled.
During her tenure as a Sunday school teacher, she realized the importance of Christian theology and the Bible.
"Once I discerned well, I informed my parents about my plan to pursue to study Theology, but they were unable to support me. However, as God's will, they permitted me," said the 43-year-old mother.
She finished her theology course in Bangalore, the capital of the southern Indian state of Karnataka. She wanted to study further other courses, but her financial crisis did not permit her.
Meanwhile, her younger sister followed her to study theology courses like her in the same college. While studying, her sister got sick and eventually died. 
In March 2007, she got married to Lunkhopao of Thinglhangjang village. After married both moved to Bangalore to work in a company to earn a living.
"As time passed, one unfortunate day, my husband met with a critical accident—he fell from a tree and broke his spinal cord," she said.
Despite the surgery, which was in vain, it left her husband paralyzed for the rest of his life.
She prayed for him. She begged him, prayed for him, and fought with him, but nothing could change him from his state of affairs as he was taking all sorts of intoxicants. 
So she prayed to the Lord and said, "Since you have given me a husband who would not listen to me, from now on, I will leave him and do whatever I want and let him do whatever he wants," Lhingkhoneng said.
During her theological studies, she wrote a thesis on "Children's ministry in the local church." 
She said, "Even if I am married as a woman, we cannot move around to preach the Gospel. But my aim was at least my family and my church should be cared for and should be my ministry."
On March 22, 2022, her husband met the accident." After his accident, I find difficult to stay in other states of India as none of us could earn," she said.
So, she left her two children in Bangalore and brought her husband to her hometown in Churachandpur, and returned to Bangalore. 
She ran from pillar to post to help her husband, even taking recourse to consult witchcraft and other evil forces for his cure, but all was of no use. 
"I started believing whatever others say. I even sacrificed a lot and admired evil forces and ask others to put spells on him for a cure," she said.
In the end, as she reflected she acted as though she was crazy. 
"I started to reflect our cure is from God and He can give to anyone he wishes," Lhingkhoneng said. 
She began to believe again in God and prayed hard for him.
"Though he was not cured, he could eat and he could use his hands though not much," she shared. 
Despite many critical challenges, hardships, and crises, she is grateful to God for all the blessings she has received in life.
With a great sense of urgency and grit, she turned to God and read the Bible.
"Though I have siblings, who never supported me, God has given me strength to care for my husband and look after my children," she said.
When they returned from Bangalore to Manipur, she and her family went to many parts of Manipur. 
Since her in-law's village was remote and the vehicle could not pass through as there was no road, the family settled at St. James, Chavangphai village in Manipur.  
"From there, I started to experience the love and care and concern of Catholic priests and nuns, though I was not Catholic," she recalled.
Over time, she became Catholic on December 8, 2018, of her own free will and volition. 
"While staying there, one thing I learned was that if we do not believe in Jesus, there is no salvation," she said.
Despite many challenges and constraints, she continues to care for her husband with patience and compassion.
"Regarding my children, I would advise them since our condition is like this. We need to accept that we cannot enjoy ourselves like others. We can never dare to compete in what we have as you know we have nothing," she said.
Her children have grasped the condition of the family and continue to be respectful, loving, and obedient to the mother.
When the husband met the accident the children were in Grade 2 and Kinder. Now, the older child is in Grade 9 and the younger is in Grade 6. 
"I thank God for them. I rely so much on my children for being responsible and helpful to me," Lhingkhoneng said with pride.
"I believe God will lead them to do some job in the future. I trust that we would do what we ought to do and God will give us the rest. They are diligently working on their studies and I am so much encouraged and feel hoping," she said.
She is happy that she works as a housekeeping staff at a school run by Catholic nuns.
"When I look back at my life, one thing I realized is that I am someone who is so much indifferent to anything. Till today, I am indifferent to both happiness and sadness," she shared.
I used to play football and join the insurgents when she was younger. 
"I was two years with the insurgents. When I went for training to Kachin in Mynamar, Kuki National Army caught me and so we could not proceed," Lhingkhoneng recalled.
On her return from there, she joined the women's football (soccer) team in Manipur. 
"My mother said women should not play football, because it will affect their childbearing. Though I believed in the grace of God, I did not listen to my other's suggestion," she said.
Though she studied Bible and theology while she was still a Protestant, she could not make use of what she studied 
Once she was in St. James T. Chavangphai, there was no one to take the Sunday Catechism class and Sir John (Church Chairman) requested the women as the youths are busy with their studies. 
"My friends did not accept to teach catechism to children and others. But, I have been reminded of my thesis 'Children's ministry in the local Church,'" she said.
Then, she taught catechism for two years, until she moved to a new location in M. Songgel.
"I offer my service for teaching catechism, but I could not continue it, because of my husband, who needs her assistance," she said.
Either teaching catechism or caring for the family, for her, everything is a calling from God.
"What I learned in theology, I can make use of it for my husband and can lead him to God. I think the greatest work I get from God is that I cannot do much outside, but will do it at home," she shared.
She informed her colleagues regarding her inability to continue to be a catechism teacher due to family responsibility.
Whenever time permits, she helps children in the catechism school. "I am always ready for the service of God," she said.
Once, a Protestant theologian asked her about her conversion to the Catholic faith. 
"I am learning new things especially many aspects of the Catholic faith, such as veneration to Mother Mary, praying the Rosary, Way of the Cross during the Lent," she said.
Another time, her neighbor Kimboi used to tell Lhingkhoneng, saying, "You are inquisitive about the faith."
Lhingkhoneng's reply to Kimboi is that she is not inquisitive, but she wants to explain what she believes.
"I want to stay strong. I will not do what I don't know. At the beginning of my conversion to the Catholic faith, no one explained to me the sign of the cross. Once I came to know its meaning and relevance, I accept it. We need to know what we believe," Lhingkhoneng said.
Looking back, she said that her parents might have prayed hard for her, despite the many imperfections and limitations she had.
"They used to read to me the Bible in the morning and evening which I can make use of now for my children. I thank God for all that happened to me," she said. 
Echoing lyrics from Jeff Akai, she said, "What I thought as the evil was a blessing from the Lord." 
Also after her husband's accident, she became close to God because she is a believer.
She was also suffering from an illness (mental). When she was well, she returned to Jesus.
"I started to reform myself. I started to join the youth group and was part of a church choir group," she said.
After working with them for two years, she started to show her interest in learning the Bible. 
"Since I do not know anything, I wanted to learn the Bible," she said.
When she met her husband, her love for him was mixed with pity. 
"If I do not marry him and if somebody marries him he may suffer, so I married him," Lhingkhoneng said
His life was not exemplary and he lived a worldly life. Now she knows how to take care of him and lift him to God.
She may not have lived according to God's will, but I thank God for His punitive punishments. Without that, she might have to suffer in purgatory. 
She knows that she is vulnerable and poor but God's grace makes her strong,
"Now, I can save myself, my children, and my husband. Though I may not save others, our family is ready for God. His mission is what I can share today with you and others," Lhingkhoneng said. - With inputs by RVA Zo
---
Radio Veritas Asia (RVA), a media platform of the Catholic Church, aims to share Christ. RVA started in 1969 as a continental Catholic radio station to serve Asian countries in their respective local language, thus earning the tag "the Voice of Asian Christianity."  Responding to the emerging context, RVA embraced media platforms to connect with the global Asian audience via its 21 language websites and various social media platforms.