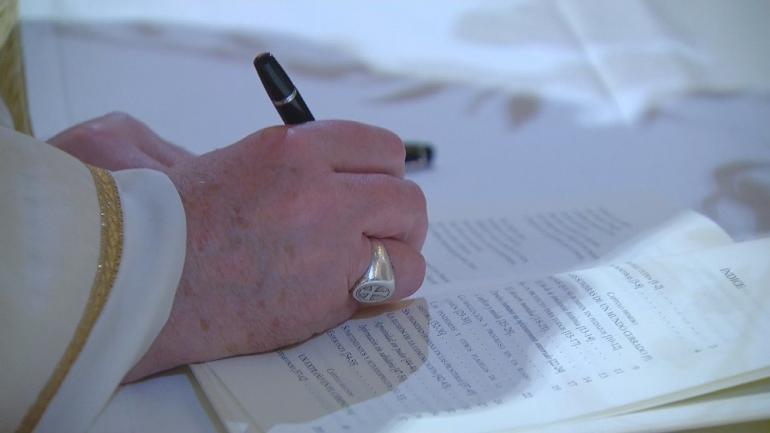 One of the top stories about Pope Francis in 2020 was the release of two magisterial texts and a book he wrote.
"Querida Amazonia" is an apostolic exhortation written after the synod for the Pan-Amazonian region. It opened the doors to new, creative ways of being a missionary Church that cares for indigenous peoples and the environment in the seven countries in the region. The text also encouraged leadership roles for the laity. 
On October 3, Pope Francis signed "Fratelli Tutti" at the tomb of St. Francis in Assisi. He drew inspiration not only from Saint Francis but also from the Grand Imam of Al Azhar. It was the first time a pope has taken inspiration from a Muslim for an encyclical. The text brings together Catholic social teachings that have been at the heart of his papal magisterium.
Two months later, he published his latest book, "Let Us Dream," which addresses the coronavirus pandemic and how our response to the global health crisis can enable humanity to emerge "better" than before. 
It provides insights into what Pope Francis has sought to do as pope, "not just for the sake of the Church," but also "as a service to a humanity."
 
In the book, he recalls that during his 19-month exile in Cordoba, Argentina, which he refers to as one of three personal "COVID-like experiences," he read the 37-volume "History of the Popes" by Ludwig Pastor. 
Looking back, he says: "I can't help wondering why God inspired me to read them. It was as if the Lord was preparing me with a vaccine. Once you know that papal history, there's not much that goes on in the Vatican curia and the Church today that can shock you. It's been a lot of use to me!" said Pope Francis. - Saw Hubert