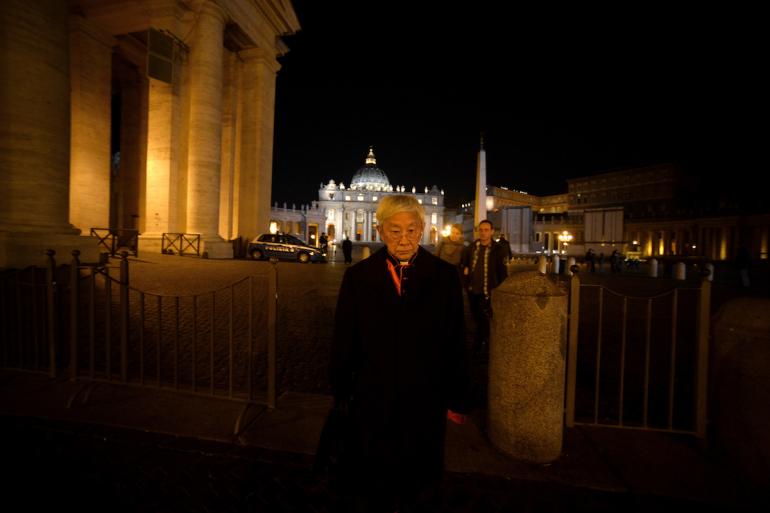 Hong Kong's Cardinal Joseph Zen Ze-kiun came home from a four-day visit to Rome with nothing but hope that the Holy See would address issues being faced by the Church in China.
The 88-year-old bishop emeritus of Hong Kong flew to the Vatican this month on the eve of the renewal of a controversial agreement between the Holy See and Beijing.
Cardinal Zen, bishop of Hong Kong from 2002 until his retirement in 2009, wanted to see Pope Francis to personally deliver a letter asking for a new bishop for the Chinese region.
The See of Hong Kong has been vacant since the death of Bishop Michael Yeung in 2019 and Cardinal John Tong has been acting as the diocese's apostolic administrator.
Cardinal Zen said the appointment of a new bishop would play a crucial rule in the Vatican's relationship with the Holy See.
"I hope [the pope] remembers all [his pronouncements] and really gives us a good bishop and not to pay too much importance to the political aspect of the problem," Cardinal Zen told EWTN News Nightly.
He recalled that early in Pope Francis' pontificate, he gave many recommendations what a good bishop should be like.
The cardinal, however, failed to see the pope.
In several media interviews, Cardinal Zen expressed concern over the possible appointment of Monsignor Peter Choi as the next prelate of Hong Kong.
He said Monsignor Choi, if appointed bishop, "would be a catastrophe for the Church in Hong Kong."
"It will spell disaster for decades to come," he said, adding that the monsignor is seen as the choice of Beijing.
Cardinal Zen warned that the appointment of Monsignor Choi will draw negative reactions from the faithful and might create a division in Hong Kong's Church.
"Good intentions are not enough. You have to understand how things are here, you have to know what the communists are like," said the prelate. 
Hong Kong's Auxiliary Bishop Joseph Ha Chi-shing is on top of the list of candidates but the bishop is seen as sympathetic to the democratic movement.
Cardinal Zen called on Pope Francis and Cardinal Luis Antonio Tagle, prefect of the Congregation for Evangelization of Peoples, to leave aside "maybe some political consideration" in the appointment of a new bishop.
Cardinal Tagle's office is supposed to provide the pontiff with recommendations on the appointment of bishops. - LiCAS.news