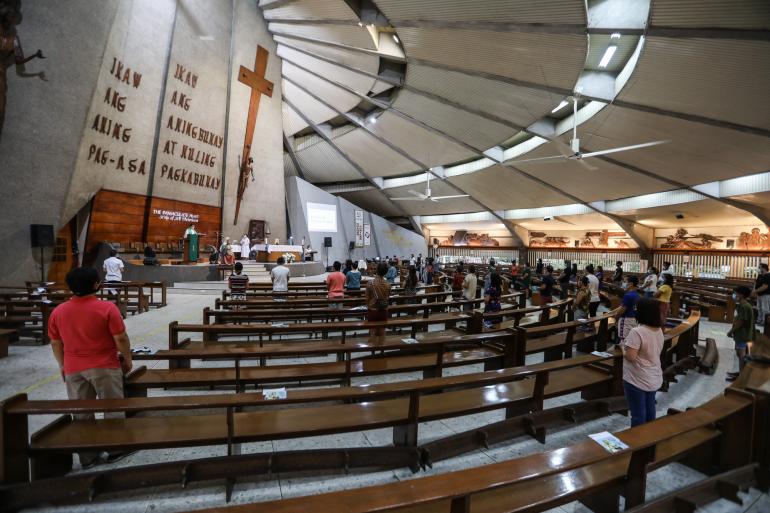 Majority of Filipinos believe that faith is very important in the fight against the new coronavirus pandemic.
This was revealed in a survey done by Radio Veritas 846, a radio station run by the Catholic Church in the country.
The Veritas Truth Survey released on Tuesday, July 14, showed that 89 percent of respondents believe that faith is "very important" in the fight against the disease.
At least nine percent said that it is "important" while two percent said it is "somewhat important."
Across geographical boundaries, 93 percent of respondents from Mindanao said faith is "very important," followed by those in Luzon at 87 percent, and finally by those in the Visayas at 66 percent.
Respondents from Visayas said that faith is "important" at 32 percent followed by those in Luzon at 10 percent, and finally by those in Mindanao at five percent.
Only two to three percent of the respondents among all geographical boundaries said that faith is "somewhat important" while no respondent said that faith is "not important" in the fight against COVID-19.
Brother Clifford Sorita, head of Veritas Truth Survey, said the survey result is indicative of the respondents' desire to conquer fear with faith.
"To fight an 'invisible enemy' brings a lot of anxiety and fear," he said.
"Leaving the safety of our homes will definitely take a lot of courage for most of us. In so doing, we will muster all the strength needed through the gift of faith," said Sorita in a statement.
Father Anton Pascual, president of Radio Veritas 846, said the result of the survey showed that most of the respondents believe that God is much bigger than the COVID-19 health crisis.
"They believe that God can surmount all. He is intimately involved in every part of our lives and is concerned with our afflictions. He will never forsake or overlook us," he said.
The survey was conducted from June 20 to July 10 and used a stratified sample of 1,200 respondents nationwide for a +/- 3% margin of error.
On July 12, the total number of confirmed COVID-19 cases in the country rose to 56,259. The newly reported cases included 1,690 fresh cases and 434 late cases.
Of the 56,259 known cases, the Health department said 38,679 were active cases.
The latest count of over 56,000 cases edged closer to the 60,000 projected cases researchers from the University of the Philippines earlier estimated could be seen in the country by the end of July.
The number of deaths also grew to 1,534 after 162 new fatalities were reported. The number makes for the largest number of fatalities reported so far since the start of the outbreak.
The Health department, however, said the deaths go as far back as May, when 20 occurred, while 90 deaths occurred in June and another 51 took place in July.
Health officials said the rise in the number of cases was due to increased testing capacity and the possible sustained community transmission of the disease. - LiCAS.news