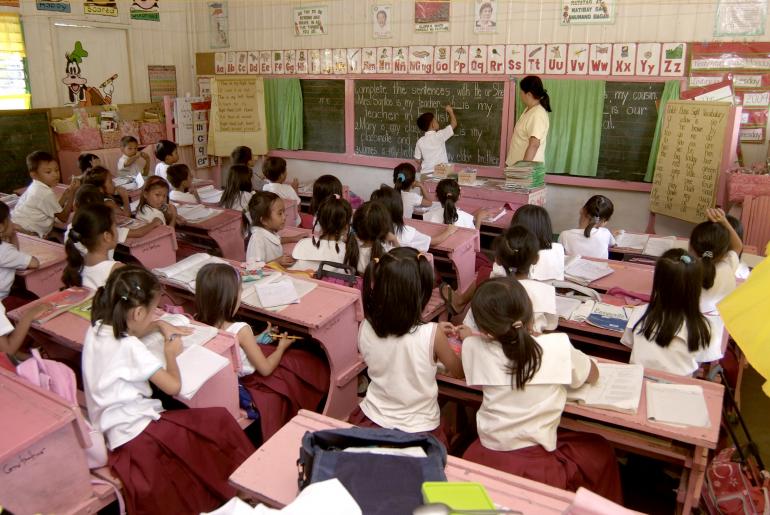 George Plathottam, sdb
The Covid pandemic has radically changed the face of education. Online learning is by far the most compelling alternative which ensures physical distancing and safe learning in a home-based environment. Education is going through a paradigm shift. We are shifting from formal education rooted in face-to-face classroom learning to one based on digital technology. In an attempt to adopt online teaching and to acquire the necessary skills to deal with the virtual classroom, the management, teachers, parents and students have to grapple with many new challenges. Every institution, whether they are adequately equipped to do it or not, has adopted e-learning. A recent survey showed that about 90.2 percent of teachers have been engaged in online schooling amidst the pandemic. The continued endeavor of all concerned has changed conventional leaning into a new era of e-education.
There are a lot debates across the world on the implications and merits and disadvantages of the new mode of education.  As of now we have no clue as to when the schools and colleges will open and students would be able to return to their classrooms. Whether we like it or not, at the moment there are no other alternatives than e-learning. 
The Benefits 
There are obvious benefits to e-learning: reduced costs, great flexibility for the student and the ability to train thousands of people all over the globe at the same time. Many students admit that learning is fun and is without the inertia and passivity of classroom courses. Students vouch that some classes are leisurely, interesting and interactive. However, they also admit that they are in a totally new environment where they miss the teachers and the classmates and their space in the school.
When asked about the experience of online learning a Class X student from India told me: "The classes as a whole are really helpful and fun. In fact, we are doing more activities in a relaxed way. We are also enjoying the comfort and company of parents at this time. The efforts made by the teachers to keep us on track even during such circumstances are really commendable. The video links shared by them are very interesting and enable us to learn through audio-visual aids. But we really miss being in the school together with friends and teachers. Hopefully we'll be able to get back to the school environment soon."
Some Concerns 
E-learning is not without its own bag of problems. Online education cannot claim to provide a level playing field for all since many students have no access to internet. Not all teachers are adequately trained and equipped to adopt technology and use it well. They need new skills and competence to be able to migrate from teaching in a classroom with chalk and board based and pupils physically present to the digital platform. 
The level of preparedness to face the new reality of online education varies from country to country and institution to institution. The issues involve infrastructure, teacher competence, student preparedness, availability of technology, particularly internet. Technology can provide a level playing field, but the reality is that there exist huge gaps of social inequality and digital divide. Strenuous efforts must be made to provide access and opportunity, reduce the gap and mitigate the problems.  
E-learning may sound attractive but it calls for utmost concentration. For children, spending hours looking at or reading from an electronic device like a computer monitor or worse still, a smartphone screen can be extremely tiring. Long, winding texts followed by multiple choice questions can be exhausting. With little preparation and hasty execution, some schools have used technology merely to transfer content. In the name of e-learning, students are compelled to download huge content for e-reading. Communication becomes one-way, linear and non-interactive.  
The Digital Disadvantage
Many students lack the necessary technological benefits like smartphones and good internet connectivity. Online education must offer students simple lessons and platforms that do not require high-speed internet connection. Schools must avail of the services of ICT experts to offer the students the best possible platforms for learning. Boredom and exhaustion can be partly addressed by integrating greater interactivity, dynamism and fun. Visuals such as video clips, power point, and quiz can be integrated into the online teaching to reduce the tedium of learning. Education Boards and Universities must review the syllabus and substantially reduce the content to include only really useful and relevant materials.  
India has the world's largest youth population with an average age of 29. It also has the fastest growth records in internet penetration. But our telecommunication system is marred by poor connectivity, call drops and frequent disruption and low bandwidth. In terms of internet speed many Asian countries lag behind developed Western countries. Even within Asia there are huge disparities between Japan and Bangladesh, for instance. Poor internet connectivity and too many technical glitches can lead to disruption of e-learning and lead to lose of concentration. Students tend to distrust e-learning and develop a negative mind set. There should be clearly earmarked targets to be achieved, and measurable tools for verifying learning outcome. 
Among those who suffer most in the new education environment are students from the lower strata of society like the poor, the marginalized, those living in remote hill stations as well as  girl children and minorities. Many of these lack technological skills, access to digital facilities like internet and smartphone. Maya John in a recent article in Mainstream titled "Online Education, the Latest Stage of Educational Apartheid", says e-classrooms, will continue to reinforce the hierarchy and segmentation in the education sector, and by extension, reproduce inherited socio-economic inequalities among students. 
Classroom education has so far provided public space and a level playing field for all. But online education creates a divide. Adoption of e-learning and digitization of education can be effective only if serious efforts are made to reduce digital divide and inequality and end all discrimination based on caste, class and gender.  Over the years Asia has witnessed increasing enrolment of girl students, and those from lower classes, thanks to various incentives. 
There is an overwhelming attack on e-learning as evident in the knee-jerk policies of some Indian states like Karnataka, Maharashtra, and Madhya Pradesh which placed restrictions on online classes for primary school-going children. Parents are annoyed at these arbitrary decisions and are protesting. They have built a virtual storm on social media to repeal such arbitrary laws.
Completely excluding kids who are at the developmental stage from learning opportunities amidst the crisis can affect their emotional development. Some have called the ban a violation of the fundamental rights under the Right to Education Act, 2009. Outlawing online classes is not a solution especially in this period of learning crisis when all other options are sealed irrevocably. Instead of running away from the crisis, it is better to think of creating ways to cope with the emerging issue of e-learning and ensure that its shortcomings can be remedied.
Need for Practical, Skill-oriented Education
The current crisis is also provides an opportunity to reduce the gap between an education that is too academic and theoretical with an education rooted in life skills. It is necessary to balance e-learning with alternative creative skills that can give the students hands-on-experience, help build their confidence and increase their employability. E-learning can help students to integrate theoretical knowledge with practical skills. Evaluation o academic achievements can be based on the students' capacity to integrate the two.  Some of the skills that can be inculcated in this way include: agriculture and horticulture based activities like planting vegetables, flower gardens, grafting, budding, preparation of compost, brining up a poultry farm, pisiculture, rearing of cattle and caring for domestic animals, cooking, confectionary and food processing, bamboo crafts, weaving and knitting, handloom and handicrafts, toy and flower making, painting and drawing, recycling paper and plastic and other waste materials. 
Students can also be trained and involved in community service activities like cleanliness campaigns, rendering first aid, care giving activities at children's village, homes for the aged and those with disabilities. They can be involved in literacy programs, conducting surveys, data collection and be trained as tour guides. Some of these activities will help students earn pocket money, enabling them to earn while they learn. This will build their confidence and develop entrepreneurial aptitude in them. 
Impact on Mental Health
There are growing concerns about the impact of e-learning on the mental health of children. The smaller children suffer most from these than grownups. Educational authorities must fix the screening time that suits the child's mental health. According to the World Health Organization and American Academy of Pediatrics, the screening time for kids aged between 2 and 5 years should be one hour excluding the interactive sessions. Both school administrators and parents should work together through the 'home-school online partnerships' to ensure better learning opportunities, creative experiences, better time management, and safe e-learning for children. Parents or family members must help kids in navigating virtual e-learning ecosystems to have age-appropriate content and help minimize mental strain and stress. 
Students who have been dependent on face to face interaction, personal interface in learning complain about frustration resulting from the lack of human contact, the absence of a teacher and their inability to interact and discuss the lessons with them. Students also complain about missing their friends and classmates and the warmth of the classroom. They admit the online world is too lonely and inhabited by machines and not persons. E-learning cannot substitute an environment to foster social skills the schools need for their growth. Though technology is fast developing new tools to make e-learning to more interactive, it is necessary to pay greater attention to the mental condition of pupils undergoing e-learning.   
Right Balance to Enrich Education
Online education should be ideally seen as a supplementary form and not as an alternative to classroom education. The present crisis might help to integrate the traditional form of classroom education with the digital learning platforms.  Online education and ICT are going to play increasing role in the education of the future and we cannot ignore them. The best approach is to find the right balance and take advantage of the benefits of both to enrich education. 
Online classes can become a good alternative in cases of long shut down caused by natural disasters, political conflicts, social unrest and whenever schools are taken over for elections or other works. Any short term or prolonged vacation period can be converted into a time of learning if we are comfortable in integrating classroom and online education.    
E-learning can supplement but cannot substitute classroom education in the days to come. UNESCO recently reported that more than 300 million students across the world are out of school after the spread of Covid-19. The closedown of educational institutions has affected some 320 million students in schools and colleges.  Director-General of the UNESCO Audre Azoulay  said: "the global scale and speed of the current educational disruption is unparalleled and if prolonged, could threaten the 'right to education'".
Covid pandemic has forced schools to shut down, but as soon as opportunity arises, they must open their doors and revert to traditional classroom teaching while progressively integrating online learning with classroom teaching. A healthy mixture of both traditional and modern method can yield best results and correct the deficiencies of each model. At the moment education and schooling is in a crisis but it is up to us to make it an opportunity.